People are suffering "fatigue" and "uncertainty" over varying Covid rules, a lecturer in psychology has said.
Dr Simon Williams from Swansea University also said "potentially conflicting messages" about the Omicron variant had left people in "limbo" about what safety precautions to make.

Wales' overall Covid case rate has continued to show a record increase.

However, hospital admissions are down on the same period last year.

On Friday, First Minister Mark Drakeford defended the Welsh government's restrictions and criticised the stance taken by the UK government in England with its rules.

Nightclubs are shut in Wales, with limits on hospitality, sports events and who people can meet, but in England restrictions are much less severe.

Dr Williams said: "When you've got different rules in different countries, but effectively we are still sharing the UK, it really hampers people's understanding and it also undermines rules on both sides.

"And I think when we look back at this in years to come, one of the big failings, I think, across the UK, was the ability to have consistent rules - that just really hinders people," he told BBC Radio Wales Breakfast.

Professor Richard Wyn Jones, of Cardiff University's Welsh Governance Centre, told BBC Wales different administrations on either side of the border meant it was not unexpected that rules would differ.

"We have different rules in different parts of the UK because we have four different administrations responsible in various ways for public health," he said.

"They all look at the evidence and they all look at it in terms of what is going on with Covid on their patches and what the scientific evidence suggests about the virus.

"And they come to a conclusion about whether measures and restrictions should be in place to keep the spread of Covid to manageable proportions."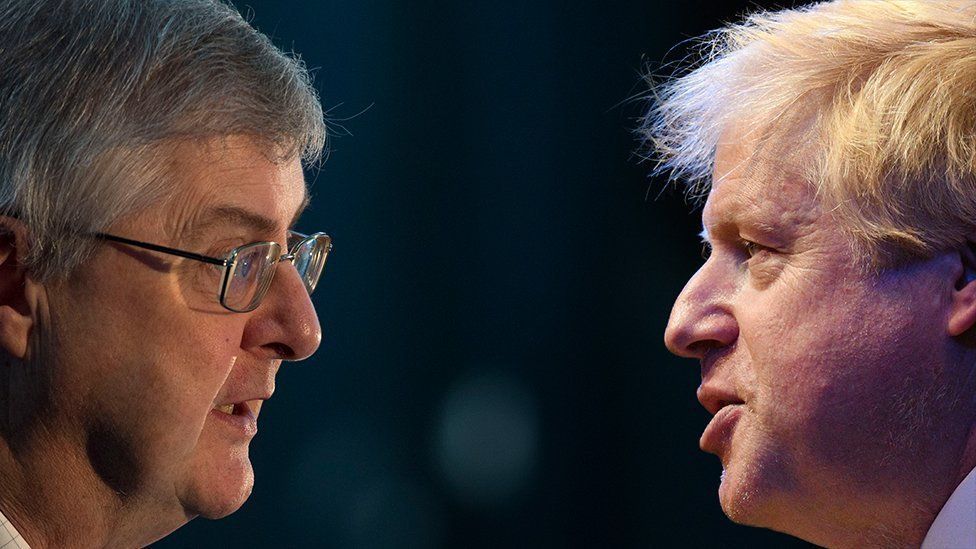 Wales' first minister said Johnson's government was an 'outlier' in the UK when it comes to Covid restrictions

But Dr Williams, who has studied people's behaviour during the pandemic, said the rules across the UK had changed "so frequently that there is a lot of noise in people's heads.

"This does cause a little bit of uncertainty as to what we should be doing and when," he added.

He added: "We are seeing... a little bit of fatigue, and it's perhaps understandable psychologically."

'Really confusing'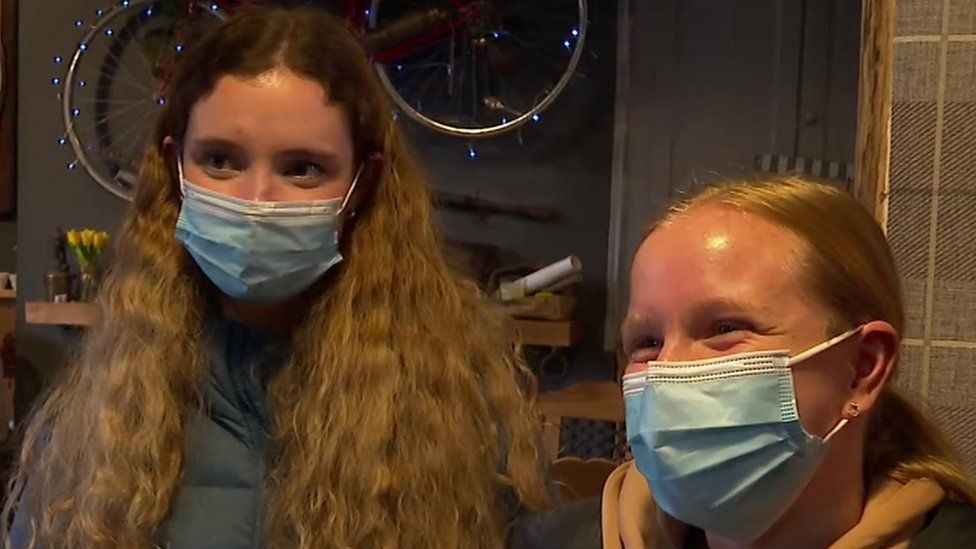 Friends Cara Roberts and Eluned Evans were confused by some of the rules

Friends Cara Roberts and Eluned Evans said they were confused by some of the regulations.

Ms Evans, from Denbigh, in Denbighshire, said: "We are just not too sure what's what, because England is different from Wales. It's just really confusing."

Ms Roberts, from Llannefydd, in Conwy county, said she believed it would be better if the rules were the same everywhere.

"I think everyone would find it a lot easier to comply with the rules and everyone would be a lot safer," she said.

'No further changes'

On Friday, Mr Drakeford confirmed there would be no further changes in restrictions imposed in Wales and he criticised decisions taken by the UK government.

"Wales is taking action as is Scotland, as is Northern Ireland and are countries right across Europe and right across the globe," he said.

"In England, we have a government that is politically paralysed with a prime minister is unable to secure an agreement through his cabinet to take the actions that his advisors have been telling him ought to be taken."

The UK government has been asked to comment.

But Boris Johnson has previously said he hopes the country can "ride out" the latest Covid wave without extending the current "Plan B" measures, which are due to be reviewed on 26 January.

Meanwhile, a senior epidemiologist, who has advised the Welsh and UK governments, called for rules to be dropped to pre-Omicron levels.

NHS staff sickness high

Director of the Welsh NHS Confederation Darren Hughes told BBC Wales Covid was having a "severe effect" on the NHS, with 8-15% of staff off sick at Welsh health boards.

He said this was expected to get worse as officials had warned them cases were expected to peak in around two weeks time - with the impact on hospitals expected to be felt two weeks later.

He said with NHS staff often living in the same communities as their patients, people must exercise caution to ensure the NHS was not overwhelmed by staff sickness.

"If the prevalence of the virus is high in the community, what we are likely to see is a big impact on staff absence and our ability in the NHS to deliver the care that we all need," he said.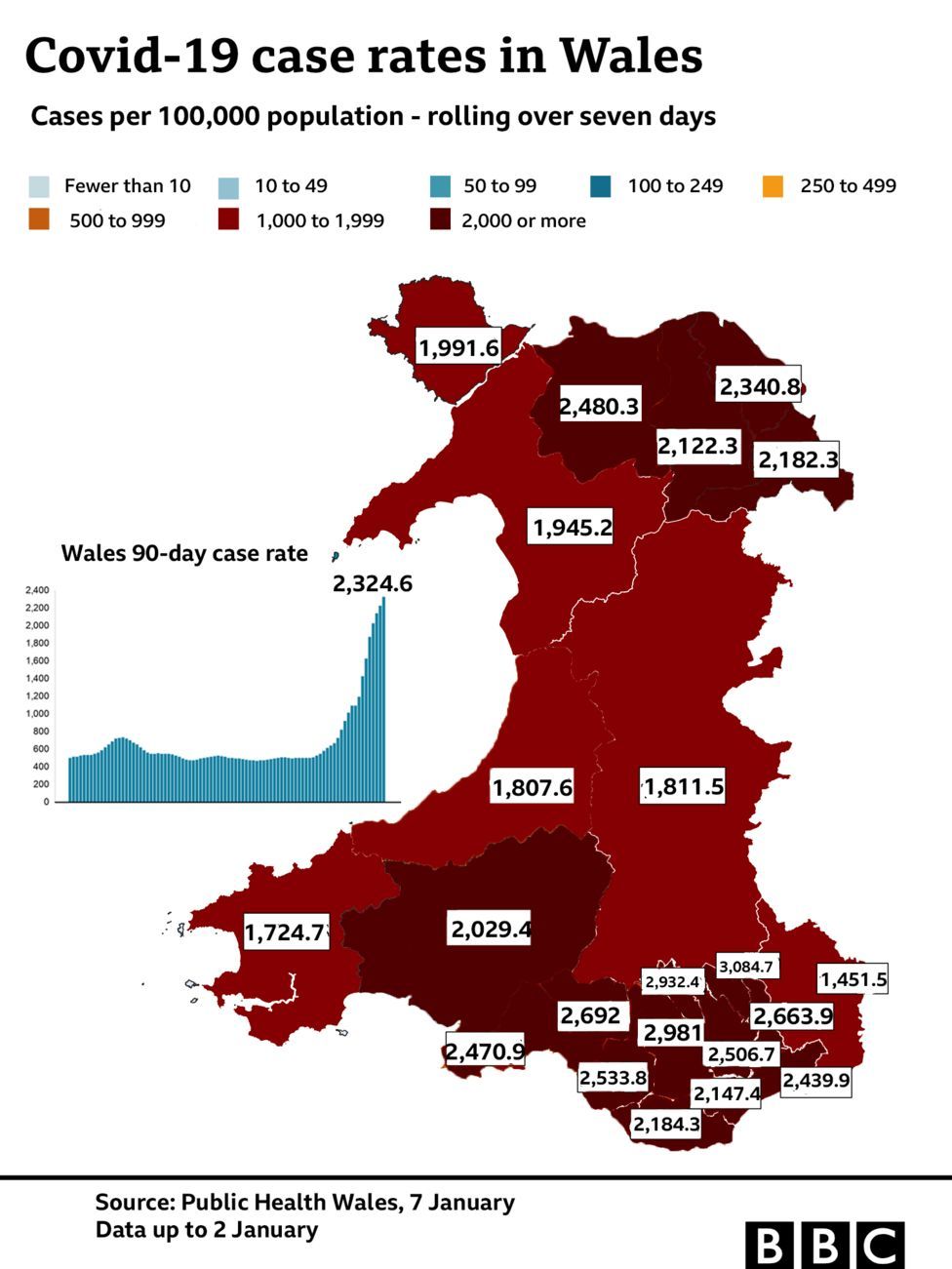 On Friday, Public Health Wales reported 7,915 new Covid cases and 21 further deaths.

The seven day rolling case rate per 100,000 has continued to climb to 2,324, compared to 2,228 reported on Thursday.

The testing positivity rate - the percentage of Covid tests returning a positive result - has fallen very slightly to 51.2%.

There was a daily average of 662 patients with confirmed Covid in hospital beds - a 77% increase on a week ago - although there were two and a half times as many people in hospital at the same point in 2021.