A leading public health expert has urged people to keep following Covid-19 advice over the busy Easter weekend.
Prof Linda Bauld told the BBC there were still high levels of infection due to the BA.2 Omicron variant.

She said public health advice on the virus would be around for "months to come" despite the rule on face masks becoming guidance on Monday.

Traffic jams and rail disruption have already impacted commuters across the UK over the long weekend.

Family gatherings, a rise in church attendance and events including the Musselburgh races are expected to contribute to higher social interaction across Scotland.

Crowds will also have gathered at Hampden for the Scottish Cup semi-finals with Hearts playing Hibs on Saturday and Celtic clashing with Rangers on Sunday.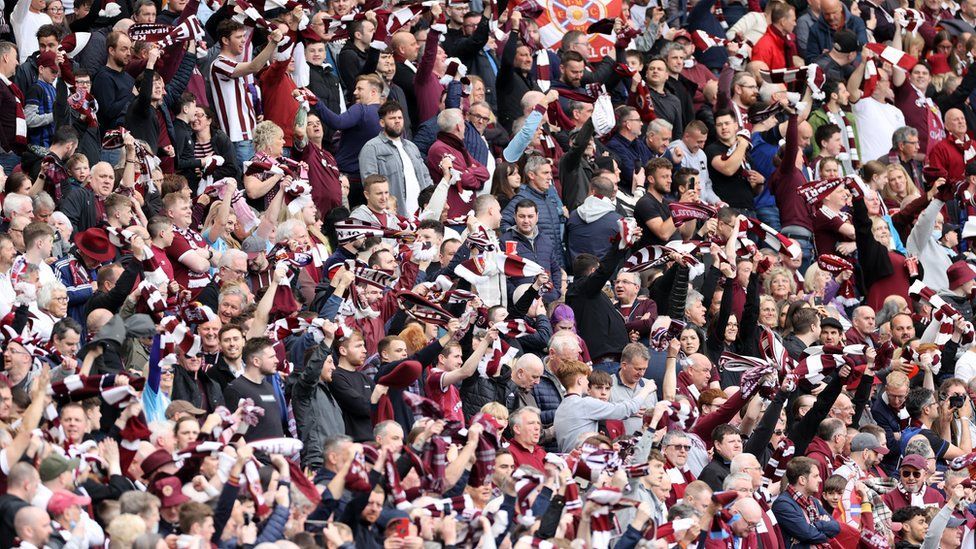 Hearts supporters pictured at Hampden on Saturday during the semi-final clash

Earlier this week the Office for National Statistics sampling showed a slight decrease in the number of people testing positive for Covid-19 in Scotland for the third week in a row.

However, Prof Bauld said despite the encouraging figures, infection levels were still high due to the highly transmissible BA.2 variant.

Speaking to BBC Breakfast, she said: "Reinfections are increasingly common - they're accounting for around 11% of infections certainly in Scotland.

"So if you're in indoor places with others you don't normally live with, of course people may pick it up.

"They're unlikely to become severely unwell but I think in time when we've lifted basically all the protective measures and it's down to people's decisions, we still just need to be aware of that."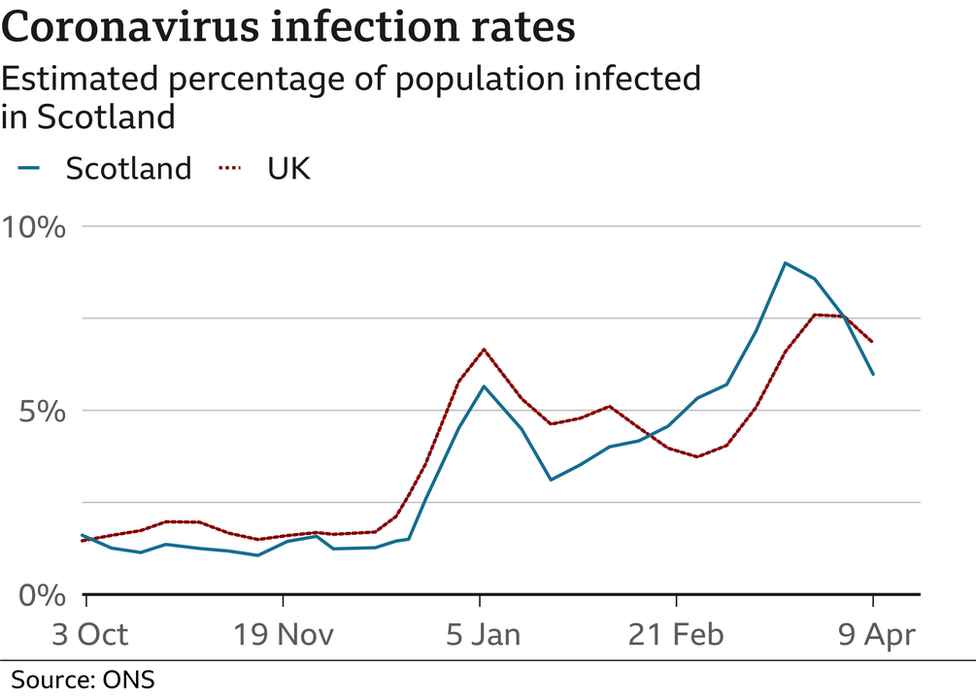 On Thursday Public Health Scotland reported 4,196 further cases of Covid-19 and 40 deaths of people who had tested positive.

Fewer people are becoming severely unwell with only 20 patients with Covid requiring intensive care on Friday, although more than 2,000 Covid-positive patients are in hospital across Scotland.

On Monday, the legal requirement to wear face masks in many indoor settings in Scotland will become guidance.

'Protect the clinically vulnerable'

The move had been delayed twice amid record levels of Covid cases and high numbers of people in hospital with the virus.

Speaking about the matter to the PA news agency on Sunday, First Minister Nicola Sturgeon said she had confidence in the "good sense and responsibility" of people in Scotland.

She said: "We can't keep things in law beyond a point where that is deemed to be proportionate, so we will move the face covering requirement out of law and into guidance.

"Wearing a face covering is a bit of protection you can give, not only to yourself but to the people you might be around - including people who might be more clinically vulnerable."

Prof Bauld echoed the Scottish government's advice for people to continue wearing masks in crowded indoor places and on public transport.

She said: "Wearing a face covering indoors even if it's not a legal requirement, thinking about being in well ventilated places and finally just making sure everyone is up to date with their vaccines before they travel - this is practical advice we're going to here around the country for some months to come.

"If you had Delta for example you might pick up Omicron, and you could still become quite poorly even if you don't become severely unwell."

Prof Bauld added that new hybrid variants were still being identified through the government's testing surveillance.

She said: "They certainly are transmissible and in fact some of them may be a little bit more transmissible than what we've got at the moment but they're not causing more severe disease."