The number of Covid cases in Scotland has increased by more than 30% in the last week, according to new figures.
The latest Public Health Scotland data reveals there were 15,541 reported virus cases in the week ending 19 June.

It also found the number of new Covid hospital admissions increased by 15.2% to 696 in the week ending 14 June.

Last week one leading academic warned two new Omicron variants - BA.4 and BA.5 - were behind the increase in cases.

The UK Health Security Agency (UKHSA) has now classified them as "variants of concern".

Meanwhile another strain - a highly contagious variant which spread rapidly in the US - appears to be rising faster in the Scotland than the rest of the UK.

Prof Rowland Kao, of the University of Edinburgh, told BBC Scotland there were a lot of possible reasons for an increase in cases involving the strain BA.2.12.1.

An offshoot of Omicron BA.2, it was responsible for an explosion of cases in New York and New Jersey in April and by May had become the dominant Covid variant across the US as a whole.

Prof Kao said: "It looks like it is spreading more in Scotland compared to the other nations.

"It could be just chance, that it started off sooner in Scotland, and if we wait another couple of weeks that it will do the same thing in England and Wales and Northern Ireland."

He also said it could become the leading variant in Scotland.

Prof Kao added: "If it is essentially different to what was circulating before, then it has an advantage over what was circulating before and then that means it will dominate.

"But it may not have the complete dominance that Omicron had over Delta.

"That's a really big thing to think about. What was there before determines what has the advantage now."

'Covid has not gone away'

Prof Kao believes what happens over the summer will determine whether we are in the midst of a fourth wave.

He said: "Heading into school holidays people start dispersing and going on holiday so it may settle down for a bit but it is a clear indication that Covid has not gone away.

"We do need to think about the winter and what is going to happen."

Prof Kao added the NHS remains under strain and said it was vital the virus continued to be treated seriously.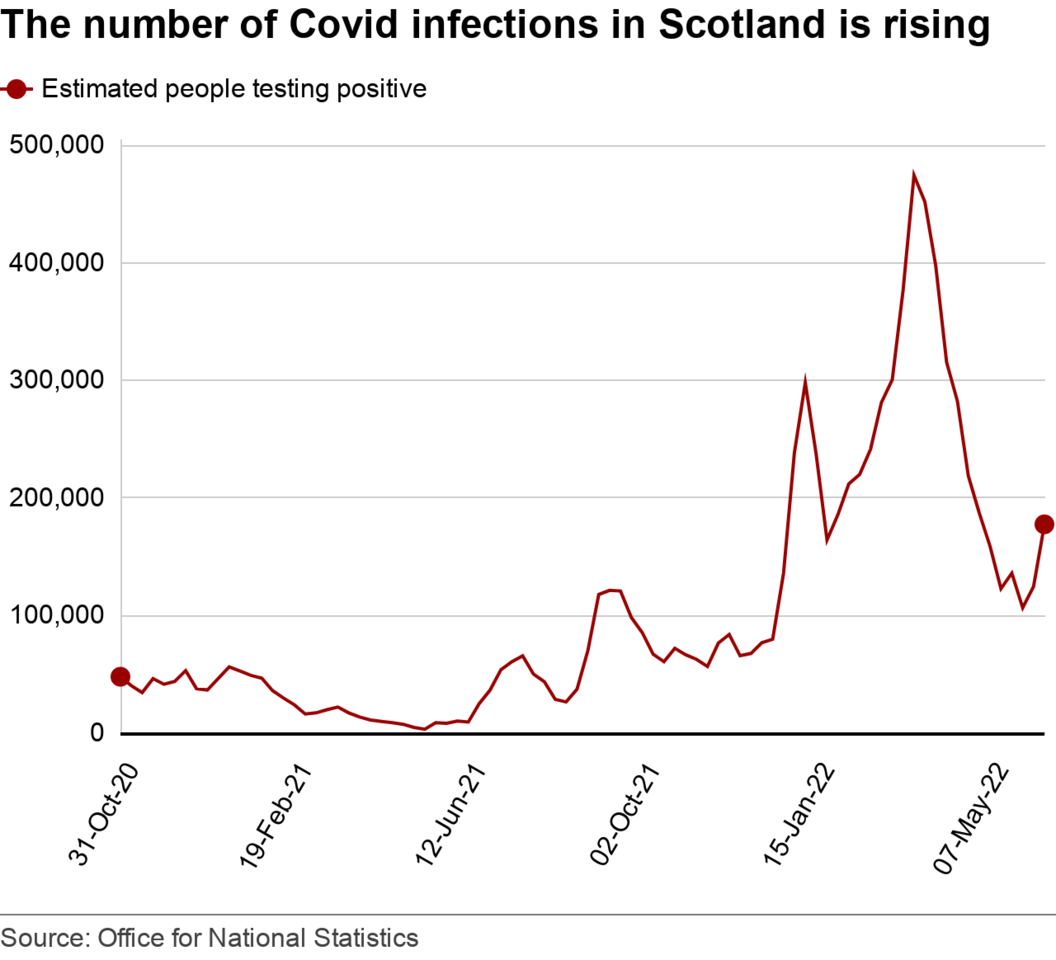 The most recent weekly Office for National Statistics report estimated that 176,900 people in Scotland had the virus - about 3.36% of the population.

The predicted Covid rate in Scotland is higher than in England, where it is believed one in 50 people had coronavirus in the week ending 11 June

In both Wales and Northern Ireland the estimated rate was one in 45 people.

The PHS Covid-19 weekly report for Scotland shows confirmed cases rose by 30.5% last week compared to week ending 12 June, when 11,909 were recorded.

It also found the highest number of hospital admissions were now in those aged 80 and over (26.9%).

Separately, there were 20 new admissions to Intensive Care Units (ICUs) with a lab confirmed test of Covid.

And there were on average of 867 patients in hospital with the virus, a 25.1% increase from the previous week.