Increase in infections to estimated one in 25 people follows similar trend in Scotland
One in 25 people in England had Covid last week, figures show, causing a rise in the rates of hospital admissions.

The latest figures from the Office for National Statistics, based on swabs from randomly selected households, reveal an estimated 2,073,900 people in the community in England had Covid in the week ending 5 March, equating to 3.8% of the population or about one in 25 people. The week before, the figure was about one in 30.

In Scotland, the latest ONS figures suggest about one in 18 had Covid in the most recent week – continuing a rise in prevalence – while in Northern Ireland and Wales it was one in 13 and one in 30 respectively, suggesting infection levels are increasing in all countries in the UK.

In both England and Scotland the number of Covid patients in hospital is also increasing: in Scotland the number reached 1,636 on Thursday, surpassing the high of 1,571 on 19 January.

Prof John Edmunds, an epidemiologist at the London School of Hygiene & Tropical Medicine and a member of the government's Scientific Advisory Group for Emergencies, said there were likely to be a number of factors behind the rise in infections. These included the relaxation of Covid measures, such as the legal requirement to self-isolate, and the slow shift in people's behaviour, such as increased socialisation and reduced mask-wearing, he said.

The BA.2 Omicron variant, which appears to be more transmissible than the earlier BA.1 Omicron variant and is rising across the UK, waning immunity and even the impact of half-term, are also likely playing a role, he said.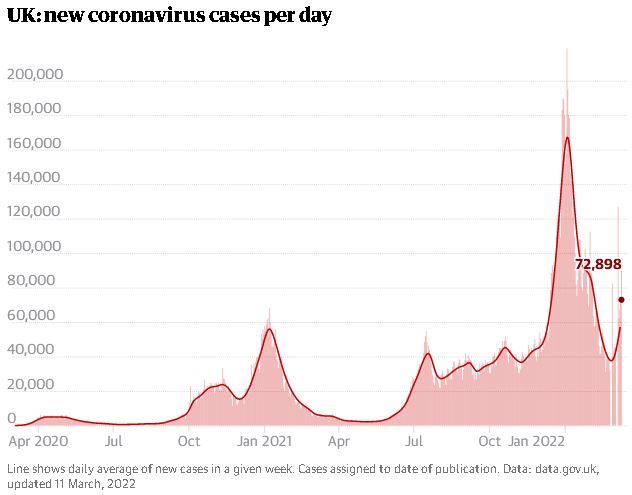 "I think it's very hard to say what is the dominant factor … This might be just a blip or it might herald something which is much larger," he said, adding that it was unclear how big the coming wave might be.

The ONS data also suggests differences in infection levels by age, with a rise in infection levels in those aged 25 years and over in the most recent week. However, while infection levels were highest in those aged two years old to school year 6, at 4.2%, it was 3.3% in those aged 70 and over – the highest since the survey began in 2020.

"Today's data shows an increase in Covid-19 infections across the whole of the UK, with a continued rise of BA.2 Omicron cases," said Sarah Crofts, head of analytical outputs for the Covid-19 infection survey. "It is too early to say whether these increases have been driven by the easing of restrictions, recent school holidays or something else, but we will continue to carefully monitor the latest data."

The figures came after findings from the React-1 study, led by Imperial College London, suggested cases of Covid were rising in older people.

While Edmunds said the current situation was not keeping him up at night, one concern was that people's behaviour remained very different from before the pandemic.

"There's a long way to go in terms of relaxing and going back to normal behaviour. And that will just, I think, continually fuel further cases over the coming months," he said, adding another problem that would increase over time was waning immunity.

The upshot, he said, was that it was likely there would be a lengthy period of high prevalence, similar to that which occurred last autumn. "[That resulted] in a constant stream of people going into a hospital and unfortunately a constant stream of people dying," he said.

"I think we're in for something similar over the next few months. It won't be as severe because more people have been vaccinated, and this is a less severe strain. Nevertheless, it is that kind of pattern, and I think what we are seeing now is the start of it."

While Edmunds welcomed the forthcoming second booster programme, aimed at those over 75 or people who were vulnerable, he said there needed to be serious consideration as to whether, and to what point, it should be expanded further.

"There is a point at which you don't react to every small increase in incidence with another vaccination programme. They are phenomenally expensive," he said.

But Edmunds said public health advice, including increasing ventilation, hand-washing and other measures remained relevant. "If you are ill, and if you do have symptoms that are likely to be Covid, stay at home for God's sake," he said.