Stormont ministers have met to discuss Northern Ireland's recovery plan from lockdown but it is now unlikely to be published until Tuesday.
Ministers had initially hoped to publish the plan on Monday but work to finalise details is ongoing.

It is understood the blueprint will focus on nine areas across social and business settings.

Each section will have five steps out of lockdown, guided by data.

That includes the infection rate of the virus, known as the R number, hospitalisations, vaccine rollout and progress in testing and tracing positive cases.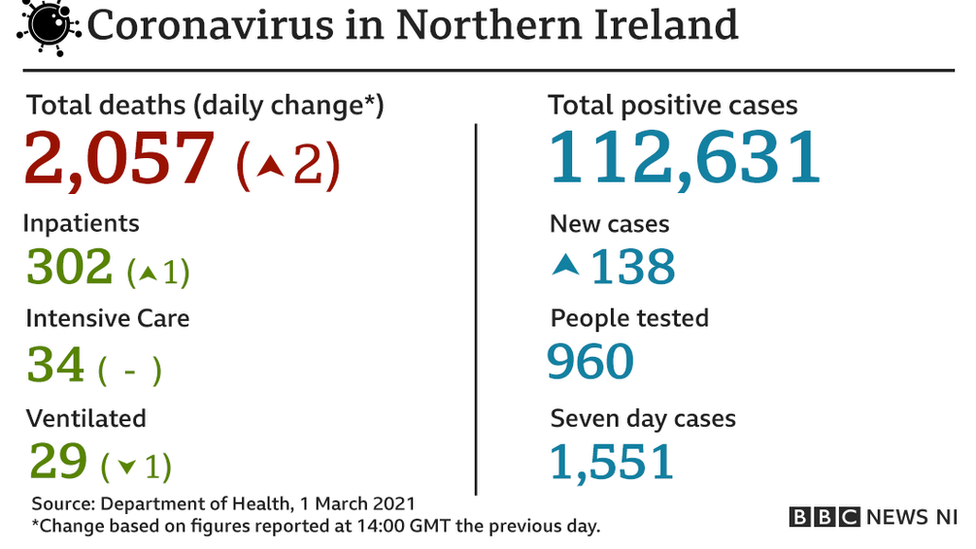 The delay comes as two more coronavirus-related deaths have been recorded by Northern Ireland's Department of Health.

A further 138 cases of the virus have been recorded in the past 24 hours.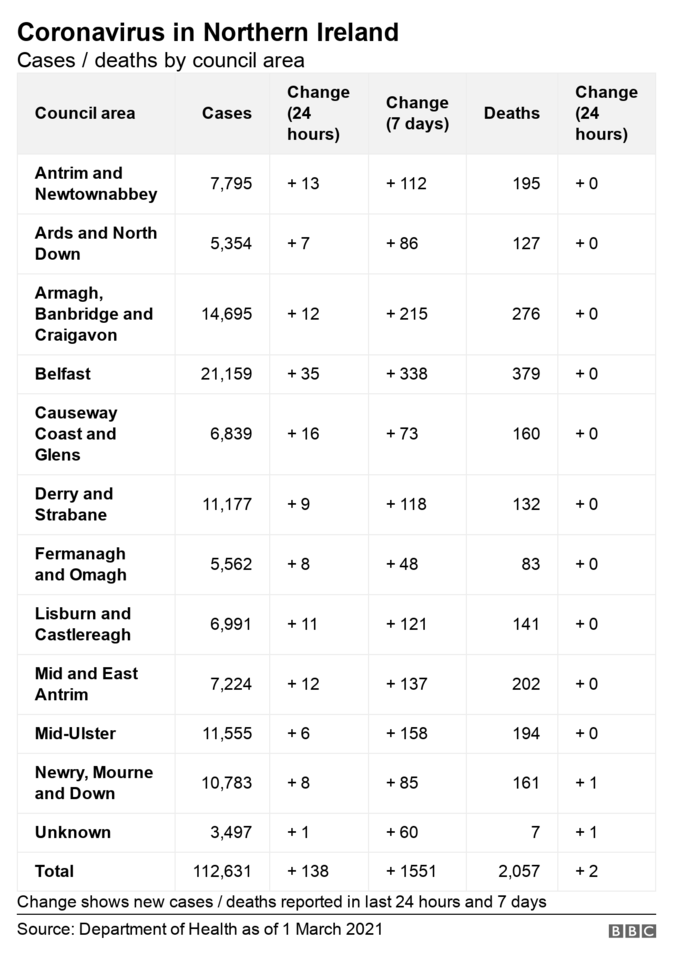 The department's daily dashboard shows there are 302 Covid-19 inpatients across Northern Ireland's hospitals.

Thirty-four patients remain in intensive care and 29 coronavirus patients are on ventilators.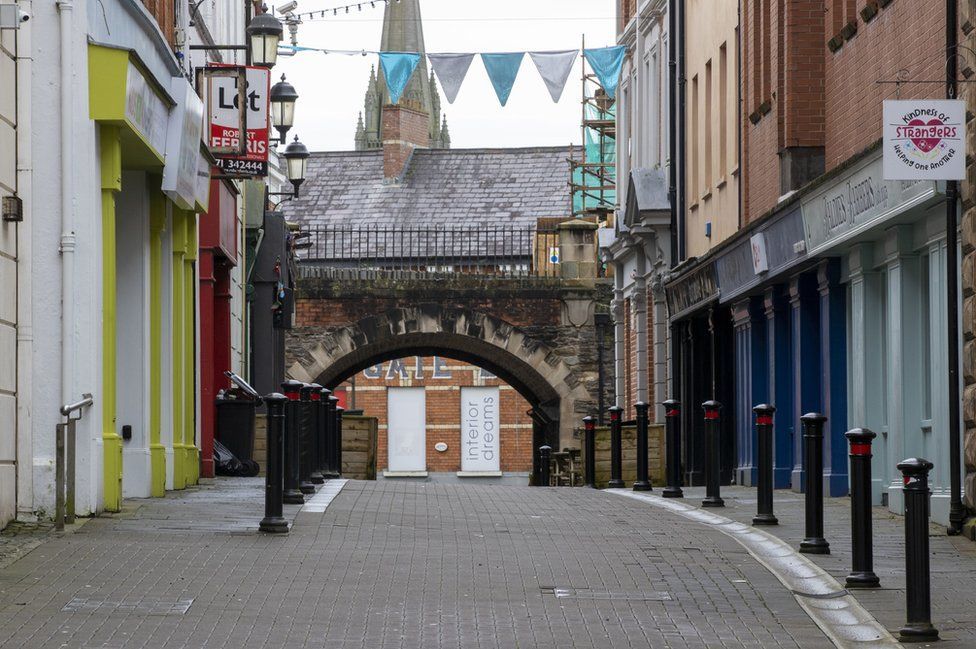 Executive ministers are due to meet on Tuesday morning with hopes of signing off the pathway-to-recovery document.

They will also discuss last week's decision by Agriculture Minister Gordon Lyons to halt work on post-Brexit border control posts, amid a row over the Northern Ireland Protocol.

The issue was raised during Monday's executive meeting with some ministers expressing concern that Mr Lyons had taken the decision without consulting other parties.

Speaking later in the assembly, Mr Lyons defended his actions as "entirely sensible and appropriate".

'Destroy the protocol'

The border control posts are based at ports and are used to check food products entering Northern Ireland from Great Britain.

Mr Lyons, a Democratic Unionist Party (DUP) politician, said he was responding to "practical difficulties" but the move sparked a sharp reaction from Sinn Féin, the SDLP and the Alliance Party.

On Monday afternoon, DUP MP Sammy Wilson defended Mr Lyons' decision on border control posts and told BBC's Talkback programme the DUP would "fight the protocol with every means we have".

What might the recovery plan look like?

It is believed the Covid-19 lockdown exit plan includes nine "pathways" to take account of various parts of the Northern Ireland economy.

The plan is not expected to include indicative dates but will set out criteria that must be met before restrictions can be eased.

Northern Ireland's lockdown has been extended until 1 April, with a review due on 18 March.

In England and Scotland, lockdown exit plans that include target dates for easing restrictions have been published but the respective governments have said the lifting of the rules will only happen if certain conditions are met.

In Northern Ireland, children in pre-schools and pupils in primaries one to three will be the first return to class next Monday 8 March.

They will be followed by pupils in years 12 to 14 on 22 March.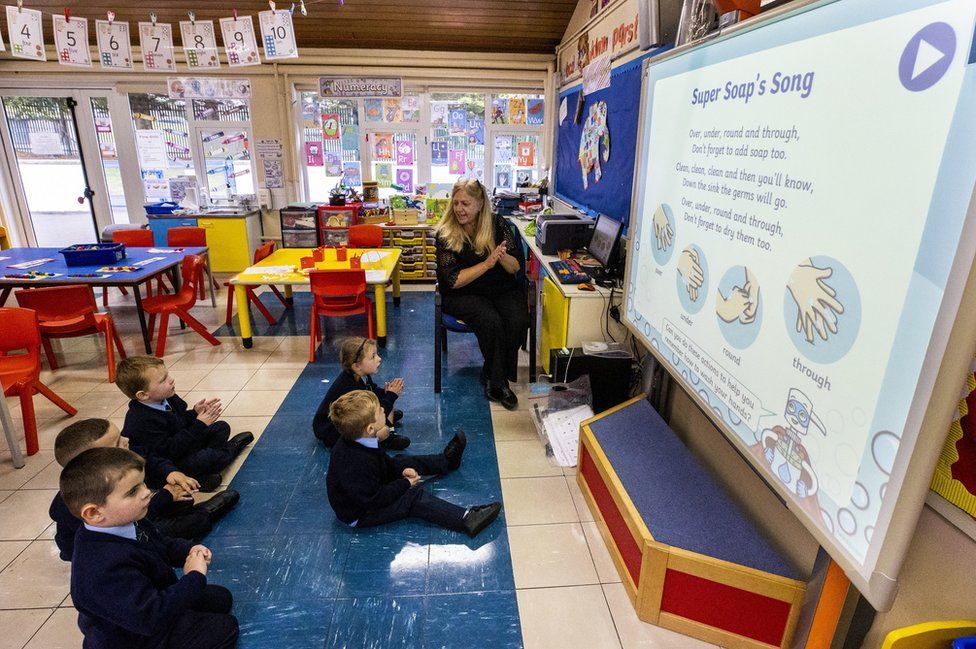 Pupils in other years do not yet know when they will return to school.

Meanwhile, some restrictions around visiting care homes and hospitals in Northern Ireland are being eased.

The new rules allowing at least one face-to-face visit per week by one person. Daily one-hour visits will be permitted in hospices and women attending maternity services will be able to have someone with them.

Care homes that do not have an outbreak will also be allowed to facilitate a variety of visiting arrangements, including indoors where possible.

In the Republic of Ireland, lockdown restrictions have been extended until 5 April but some pupils are already returning to school.

On Monday, the Republic recorded one more coronavirus-linked death which happened in January.

It brings the country's death toll to 4,319. A further 687 cases of Covid-19 were confirmed.