England will move into a period without legal restrictions where the public will have to exercise "personal responsibility" including on face masks, the housing secretary has said.
Robert Jenrick told the BBC's Andrew Marr people would "come to different conclusions" over masks, but he trusted people "to exercise good judgement".

All legal restrictions are expected to be lifted in England on 19 July.

The Scottish government said there would be an "ongoing need" for masks.

A spokesperson said people could still be expected to wear face coverings on public transport and in shops even after other curbs lift in Scotland on 9 August.

Scotland, Wales and Northern Ireland are in charge of their own coronavirus rules. On face masks and other measures, the Westminster government is working with counterparts in the other nations on a UK-wide approach.

In Wales, minister Mick Antoniw said it was "moving to a stage where we are having increasing normality" with the next review of curbs due on 15 July.

Mr Jenrick said on Sunday he would like the whole union to move as one.

A further 24,248 Covid cases and 15 deaths within 28 days of a positive test were recorded in the UK on Sunday.

When asked on the BBC's Andrew Marr Show whether he was confident that all restrictions would end in England on 19 July, Mr Jenrick said: "It does look as if - thanks to the success of the vaccine programme - that we now have the scope to roll back those restrictions and return to a normality as far as possible."

He said cases might continue to rise significantly as restrictions were eased.

"But we now have to move into a different period where we learn to live with the virus, we take precautions and we as individuals take personal responsibility," he said.

When asked if the requirement to wear face masks in certain settings will definitely go, Mr Jenrick said: "I can't make that commitment this morning because the prime minister will make an announcement in the coming days - it does look as if the data is in the right place."

He urged people to get fully vaccinated and, when asked about travel, said the government was "still looking at the data" in terms of allowing those who have been double-jabbed to avoid quarantine when returning from amber list countries - but it was their objective.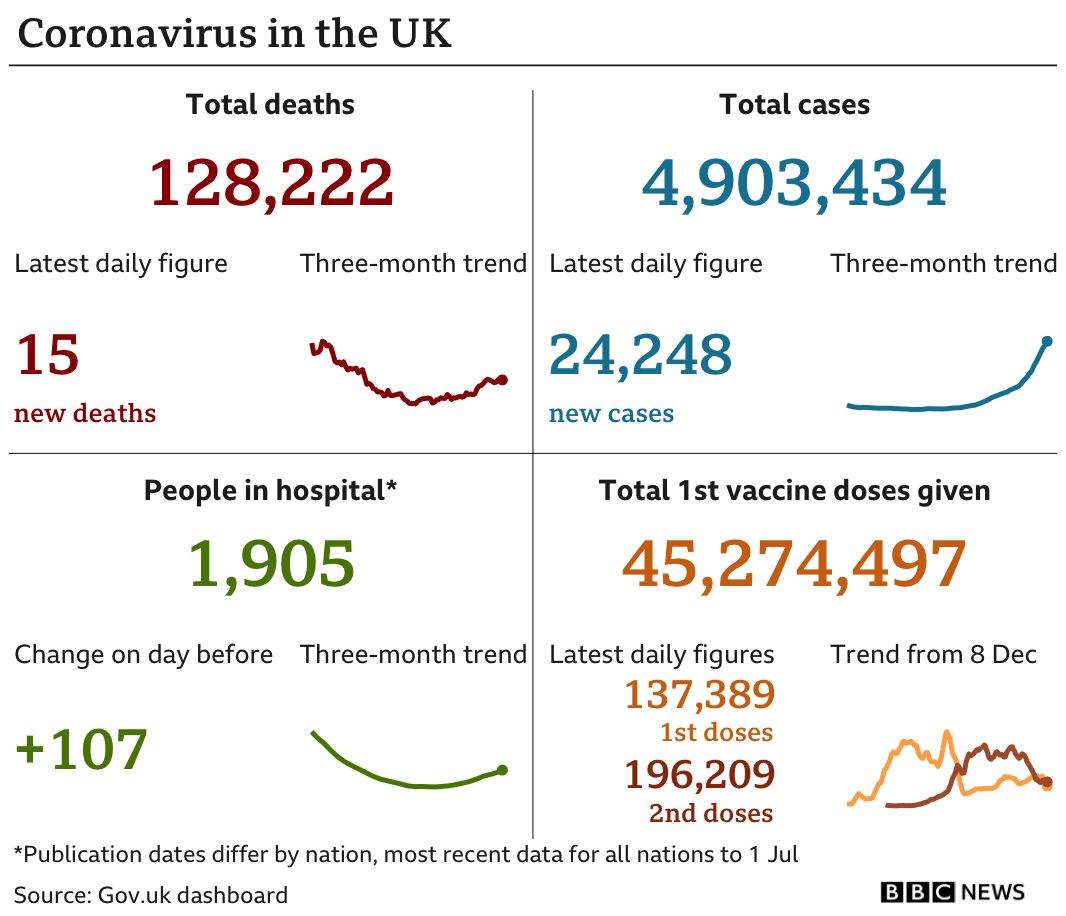 Asked on Sky News about whether he would stop wearing his face mask if the rules allowed, Mr Jenrick said he would, because he did not particularly want to wear one.

But he said: "We will be moving into a phase where these will be matters of personal choice. So some members of society will want to do so for perfectly legitimate reasons but it will be a different period where we as private citizens make these judgements rather than the government telling you what to do."

Mr Jenrick added: "We are now going to move into a period where there won't be legal restrictions - the state won't be telling you what to do - but you will want to exercise a degree of personal responsibility and judgement."

Prof Stephen Powis, NHS England's medical director, said if some people continued to wear face masks in certain circumstances, such as crowded places, then "that's not necessarily a bad thing". "Those habits to reduce infections are a good thing to keep," he added.

He said the link between coronavirus infections, hospital admissions and deaths had not been totally broken as there were people in hospital who had been vaccinated.

"But it's severely weakened," he said.

Mr Jenrick also said the government would be making a statement on school bubbles - the system that means entire groups of pupils have to self-isolate if one pupil within the group tests positive - ahead of 19 July.

Critics say the bubble system is disruptive, and official figures this week showed hundreds of thousands of children had been sent home from school because of it. The education secretary has also said he want to replace the bubble system with a different approach.

"As a parent I've seen it first hand," Mr Jenrick told Times Radio on Sunday. "It's extremely frustrating. We want to see that come to an end and to move to a different and better system."

Writing in the Mail on Sunday, Health Secretary Sajid Javid said there was a compelling argument that easing Covid restrictions was needed for the country's health.

He said the rules had caused a shocking rise in domestic violence and a terrible impact on mental health.

And he said England was on track to meet the fourth and final stage of lockdown lifting - but that "cases are going to rise significantly" and "no date we choose will ever come without risk".

Mr Javid also warned the backlog facing the NHS would get "far worse before it gets better", as millions of people had avoided coming forward for healthcare during the pandemic.

The British Medical Association (BMA) has said measures such as mandatory face coverings in certain settings should stay in place as it warned the number of people admitted to hospitals in England with Covid-19 had risen by 55% in a week.

Dr Chaand Nagpaul, BMA council chairman, called the jump in cases alarming and said: "It makes no sense to remove restrictions in their entirety in just over two weeks' time."

The BMA called for the continued use of masks and new ventilation standards, among other measures.