India has been added to a "red list" of countries from which most travel to the UK is banned, over fears of a new Covid variant, the health secretary has said.
From 04:00 BST on Friday 23 April, most people who have travelled from India in the last 10 days will be refused entry.

British or Irish passport holders, or people with UK residence rights, will be allowed in but must quarantine in a government-approved hotel for 10 days.

Matt Hancock said there had been 103 UK cases of the India variant.

In a statement to the House of Commons on Monday, the health secretary said the vast majority of the cases of the new variant - officially known as B.1.617 - had been linked to international travel.

He said test samples had been analysed to see if the new variant had any "concerning characteristics" such as greater transmissibility or resistance to treatments and vaccines.

He told MPs: "After studying the data, and on a precautionary basis, we've made the difficult but vital decision to add India to the red list."


Health officials say this new variant, first identified in India, has some worrying genetic changes that need exploring.

It's still too soon to say if it is more contagious, deadly and will evade vaccines - and whether it should join the Variant of Concern list that the South Africa, Kent and Brazil variants belong to.

Assessments are ongoing, and in the meantime the government is looking to stop more cases arriving and spreading in the country.

That's why the government is also stepping up surge testing to quickly find any new cases in the UK and is introducing a speedy new type of lab test that can show within hours if someone is positive for Covid - and if the infection they have is one of the known variants, including this new one from India.

It should mean people can isolate faster to prevent giving it to their friends, families, neighbours and colleagues.

Transport Secretary Grant Shapps tweeted the move was made to ensure the UK did not lose its "hard-won progress on the vaccine rollout".

A briefing document drawn up by officials at Public Health England shows that between 25 March and 7 April, 3,345 arrivals from India were registered in UK border travel data. Of those 161 - or 4.8% - tested positive for Covid-19 after a PCR test.

The new travel rule applies to England and Scotland. There are currently no direct international flights into Wales or Northern Ireland.

Scotland's Transport Secretary Michael Matheson said: "International travel will continue to remain a significant risk, requiring a cautious approach, on a four-nation basis."

Mr Hancock said there had also been 557 cases of the South Africa variant found in the UK since December, with a "cluster" of cases in south London and isolated cases in Barnet, Birmingham and Sandwell over the last week.

While around two-thirds were related to international travel, there had been a "small amount" of community transmission, he added.

He said the government was "ramping up" plans for a booster shot to ensure vaccines stayed "ahead of the virus".


It was less than four months ago that India banned flights from the UK to stop the spread of the UK variant.

Now, as the so-called 'Indian variant' is investigated, and case numbers there climb, the reverse has happened.

It shows how quickly dynamics between countries can change.

When the Westminster government last added countries to the red list, including Bangladesh and Pakistan, at the start of April, it gave a week's notice. This time it's just over three days.

Direct flights to and from India are already limited - a decision made by the Indian government in January - to 30 a week, meaning that many will now be rushing to book the last few seats before Friday.

The travel industry is still hoping that international travel from England will restart on 17 May, but today's announcement underlines that it will be a while until the world is open to us.

The list of countries on the banned list is getting longer rather than shorter.

Responding to a question from shadow health secretary Jonathan Ashworth, Mr Hancock said that surge Covid testing would happen in areas where cases of the India variant had been identified.

Labour's Yvette Cooper, chairwoman of the Home Affairs Committee, questioned why India was not put on the red list sooner, adding: "Hong Kong this week have identified 47 Covid cases just on a single Delhi flight and we have still 16 more direct flights, many more indirect flights from India to here, before Friday alone."

Mr Hancock responded by saying that decisions on each country were "kept under constant review".

The announcement came after Prime Minister Boris Johnson cancelled a planned trip to India, which had been due to take place on 26 April, amid rising cases there.

India has been reporting more than 200,000 cases daily since 15 April. Its capital Delhi has announced a week-long lockdown after a record spike in cases overwhelmed the city's healthcare system.

It comes as the UK recorded four deaths within 28 days of a positive coronavirus test, according to the latest government figures.

It is the lowest daily figure since 7 September, although the number of deaths recorded on Monday and over the weekend tend to be lower because of reporting delays.

The data also showed there were also 2,963 new infections. Meanwhile, more than 10m people in the UK received a second dose of a Covid-19 vaccine, and nearly 33 million people have had their first dose.

How does hotel quarantine work?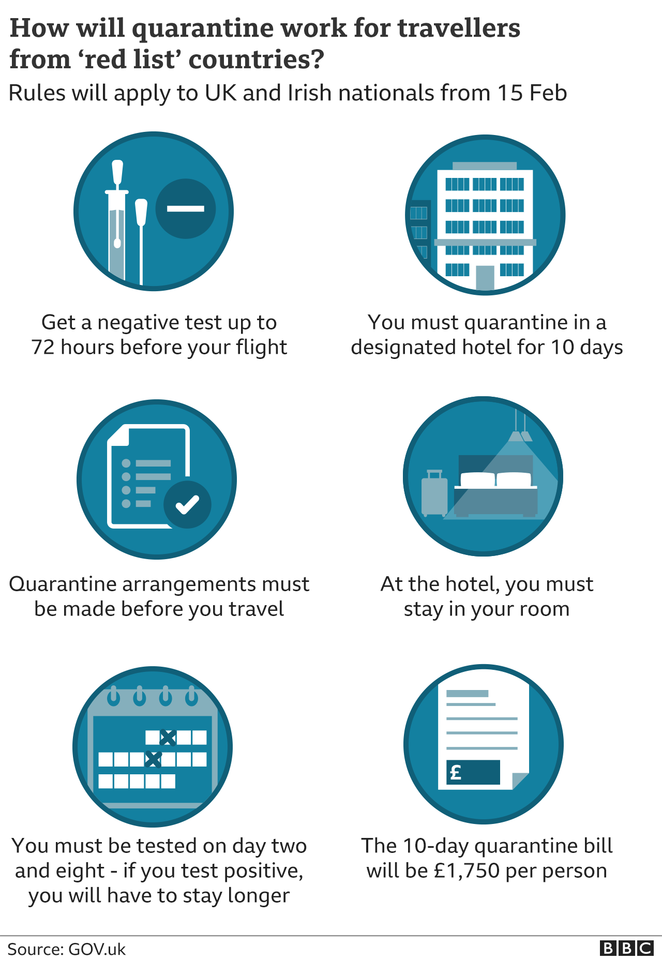 All travellers returning to the UK must fill out a passenger locator form in advance, including details of their departure country and UK address.

They must also show proof of a negative Covid test taken within 72 hours before travelling to be allowed entry to the UK.

In England, a stay in a quarantine hotel costs £1,750 per passenger travelling alone to cover transport, tests, food and accommodation.

Every additional adult, or child over 12, must pay £650, while children aged five to 12 pay £325.

Returning travellers must take a Covid test on days two and eight of quarantine, at a cost of £210.

A negative test result does not mean they can shorten their time in quarantine, but if they test positive, they must self-isolate for a further 10 days.

Neither will they be able to end it early through the Test to Release scheme, where travellers from non-red list countries can leave home isolation after a negative test on day five.

Rule-breakers face strict penalties - including prison sentences of up to 10 years.