The final easing of lockdown measures in England is still set for 19 July, the new health secretary has said.
Sajid Javid told MPs that ministers "see no reason to go beyond" that "target date".

He said that while cases were rising, the number of deaths "remains mercifully low".

In a statement, he said no date for lifting restrictions would come with "zero risk" and that "we have to learn to live with" Covid-19.

"We also know that people and businesses need certainty, so we want every step to be irreversible," he said.

"The restrictions on our freedoms, they must come to an end."

Addressing the House of Commons for the first time as health secretary, Mr Javid added that the government was aiming for "around two thirds of all adults in this country" to have had two doses of a coronavirus vaccine by 19 July.

The vaccine is now estimated to have prevented 7.2 million infections and 27,000 deaths in England, according to new analysis from Public Health England and Cambridge University.

The end of England's lockdown was originally scheduled for 21 June, but was pushed back by four weeks with the promise of a review after two. Mr Javid's update marks the end of that review.

The number of new cases across the UK has continued to rise quickly since the delay was announced.

A further 116,287 cases have been recorded in the past seven days - a 70% increase on the previous week's total.

But the latest estimates show fewer than one in 1,000 infections is leading to a death. At the peak of the winter wave it was one in 60.


The talk of encouraging data is understandable. You only need to look at what was happening in the autumn when the second wave was starting.

As is the case now, infection rates were climbing rapidly from a low base.

Back then, that saw hospital admissions top 1,000 a day little over a month later. Thanks to the vaccines, hospitalisations are nowhere near that level now.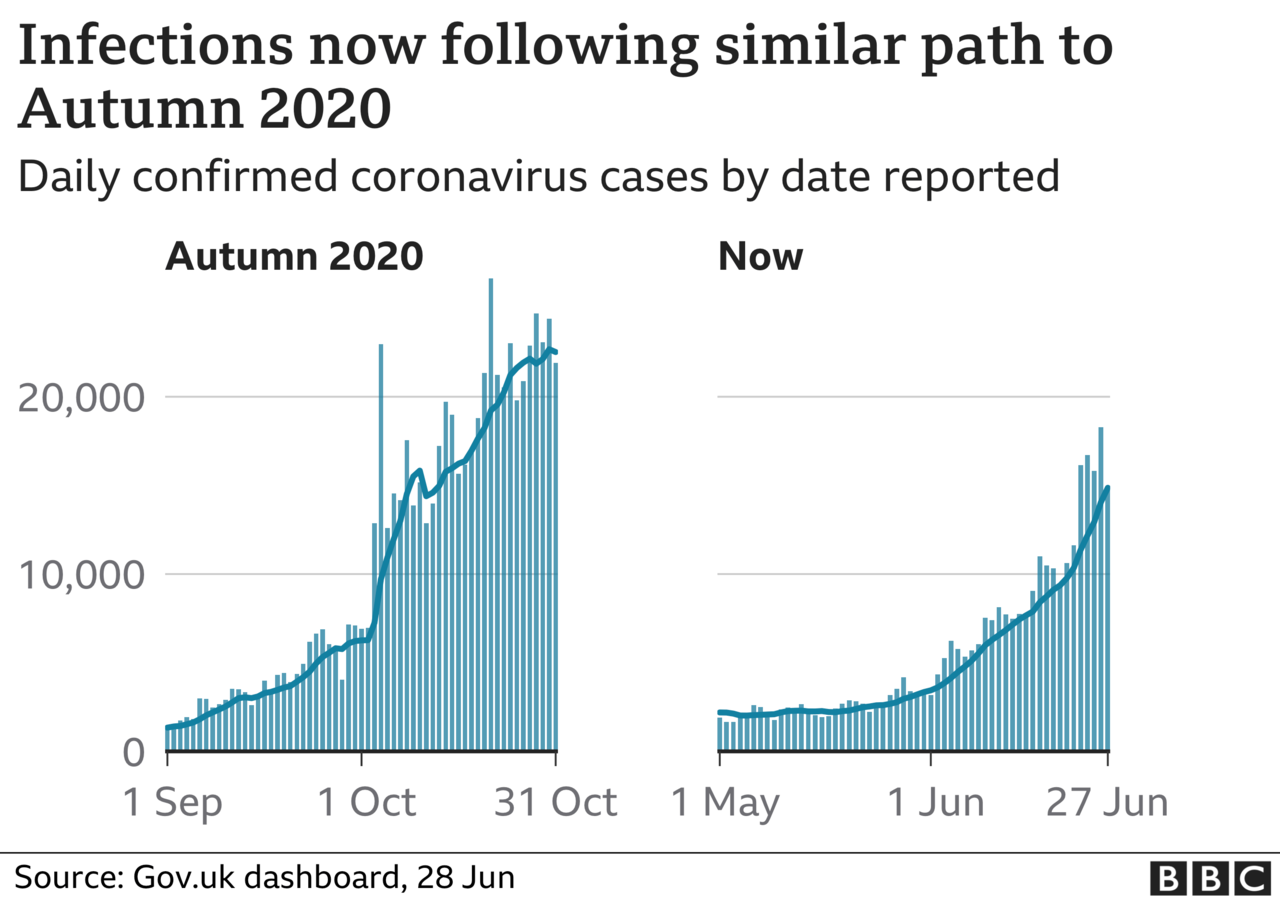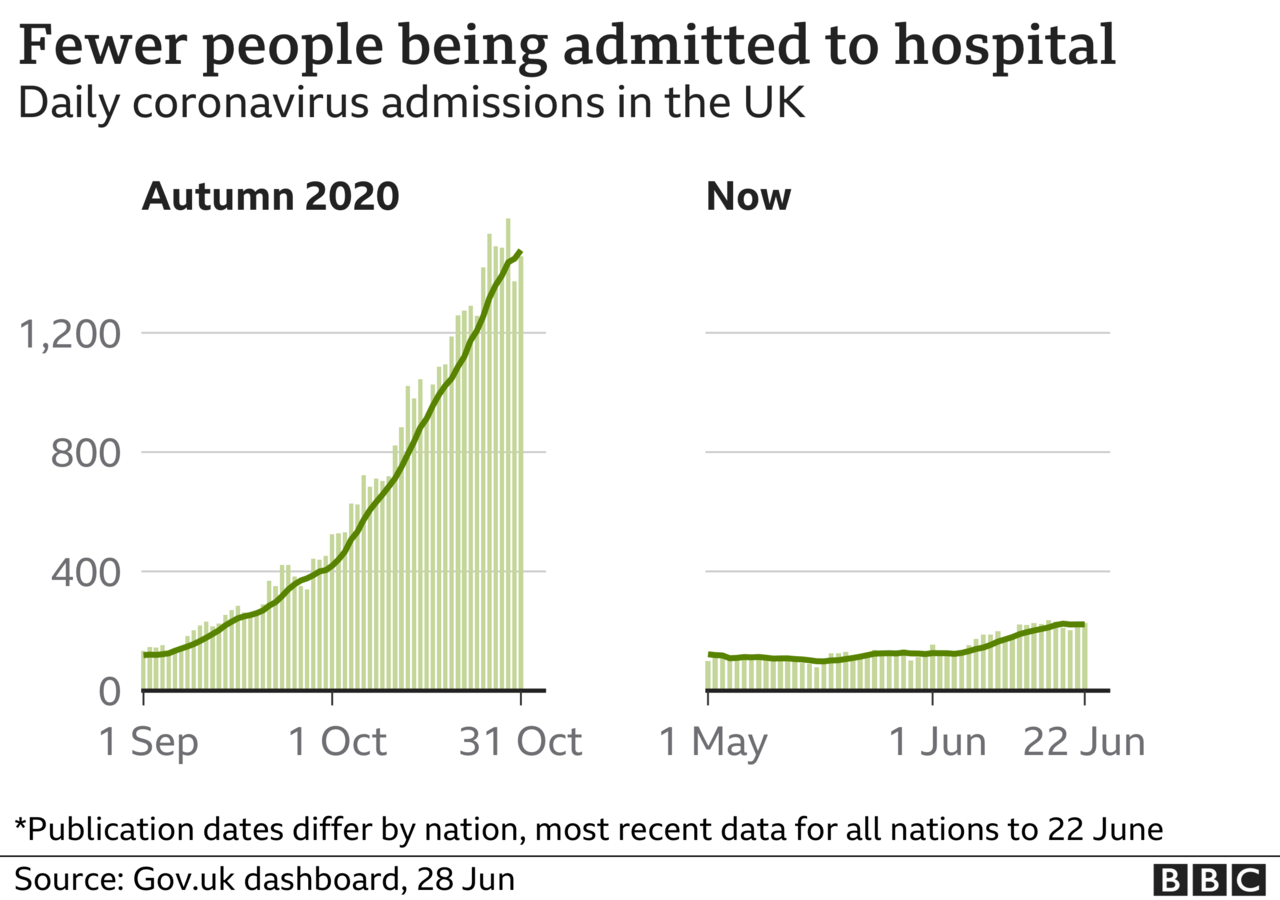 It means that what can be considered a proportionate response to the virus is now very different.

But admissions are still rising. So that is why government scientists are hoping to see some signs of a flattening in infection levels before a decision is made about 19 July.

The new health secretary is clearly confident that all remaining restrictions can be lifted then. The next two weeks will prove whether that faith is misplaced or not.

Mr Javid was asked whether it was the government's plan to remove all restrictions on 19 July.

He replied that it was certainly the government's intention to "remove restrictions" - but whether that would be all or just some, he added: "As we follow the data in the coming days, we will set out more in due course."

He was also asked what he would do to help parents who were having to stay home repeatedly because their children were being told to isolate.

Mr Javid said a pilot was under way to ascertain whether "tests can be used in lieu of isolation".

Labour's shadow health secretary, Jonathan Ashworth, suggested the government should not be so confident about the date, warning that cases were on the up.

"We've seen around 84,000 cases in the last week, an increase of around 61%. Today we've seen the highest case rate since January," he said.

"So what is he going to do to push infections down? Vaccinations will do it eventually but not in the next four weeks."


The tone from the new health secretary sounded less cautious than his predecessor, but in substance not much has changed.

Sajid Javid did exactly what Matt Hancock would have done had his political career survived - he dashed any hope that sceptical Conservative backbenchers might have had that restrictions in England could end next week.

But he did try to reassure them that the economic pain would not be prolonged for much longer.

With infections rising, though, Labour is warning that the anti-restriction rhetoric could prove premature.

And while legal restrictions might end and closed businesses might re-open on 19 July, Mr Javid was less forthcoming on exactly when the paraphernalia of the pandemic - the masks, the apps, the contact tracing - will finally be consigned to the past.

Earlier, Prime Minister Boris Johnson said people in England were "very likely" to be able to return to "pretty much life before Covid" on 19 July.

He said it was "sensible to stick to our plan" of having a "cautious but irreversible approach" to lifting the remaining restrictions.

A total of 22,868 cases were reported on Monday, up from 14,876 on Sunday. However, the government said Sunday's figure was lower than expected because of a delay to processing data, and that Monday's total would include outstanding cases.

A further three deaths within 28 days of a positive test have been reported in the UK. There tend to be fewer deaths reported on Mondays, due to a reporting lag over the weekend.

The latest figures show that 84.4% of adults in the UK have had their first jab and 61.9% have had their second.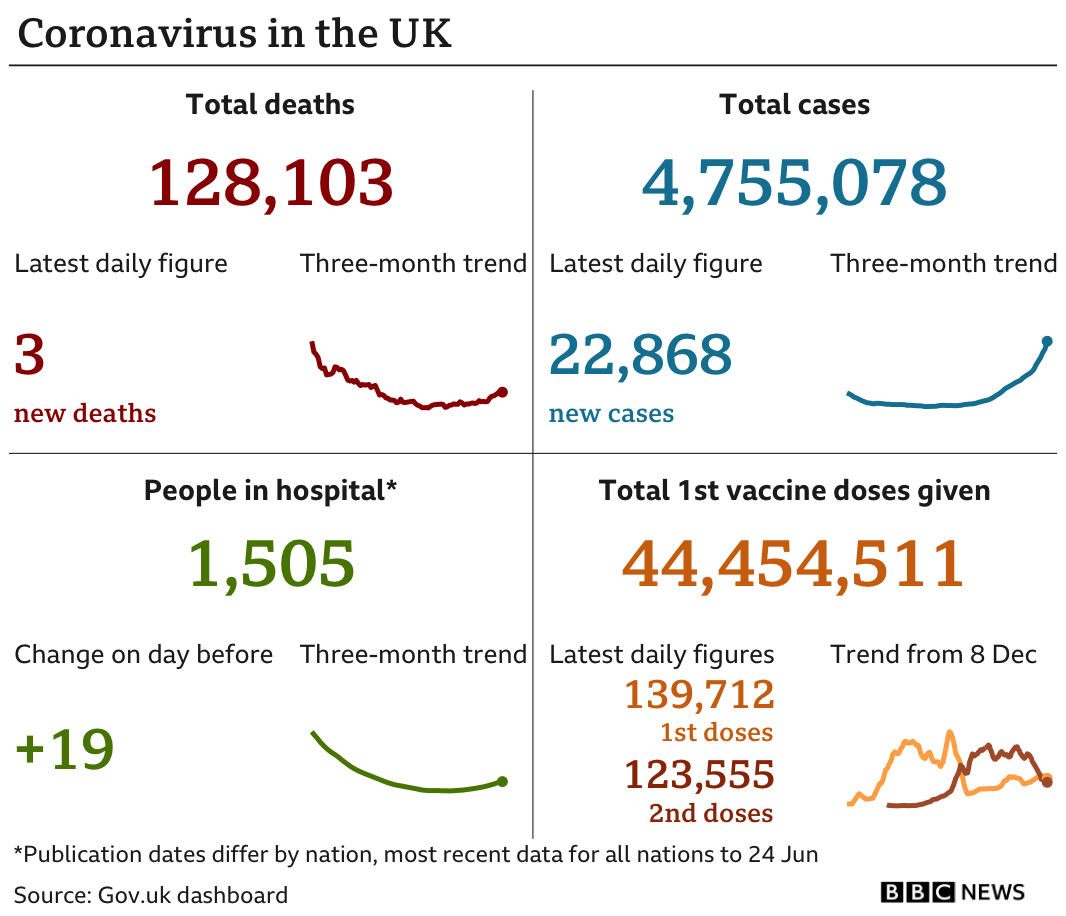 Until lockdown is further eased in England, limits will remain on gatherings.

Currently, groups of no more than 30 are allowed to meet outdoors, while up to six people or two households are allowed indoors. Capacity limits will continue at venues and nightclubs will stay closed.

However, some coronavirus pilot events are continuing as planned, including some upcoming Euro 2020 games, Wimbledon, and arts and music performances. Attendees have to show proof of vaccination or a recent negative test.

It is not yet known whether social distancing and face masks will continue to be advised after 19 July. Reviews are under way into social distancing as well as into masks and other measures, and these are due to be completed before the lifting of rules on 19 July.

On its website under the section about step four of lockdown easing (the next step), the government says: "We are going to have to keep living our lives differently to keep ourselves and others safe. We must carry on with 'hands, face, space'. Comply with the Covid-secure measures that remain in place."

Former Health Secretary Matt Hancock also previously suggested there could be a new approach to self-isolation, for example taking daily tests while continuing on with daily life.

In Wales, meanwhile, the lifting of Covid restrictions has been paused and will be reviewed again on 15 July.

In Scotland, it is hoped that the remaining rules will be lifted on 9 August, while some rules in Northern Ireland will be reviewed on 1 July.