All 16 and 17-year-olds in England are to be offered their first coronavirus vaccine dose or the chance to book one by 23 August, the government has said.
The health secretary said offering vaccines by this date would allow teenagers to get some protection before starting school or college next month.

A walk-in site finder is being launched online by NHS England to help people locate their nearest vaccine centre.

Young people in this age group were first offered a jab earlier this month.

But unlike older age groups, no second dose is being scheduled.

They will be invited, by text or letter, to get vaccinated either by making an appointment through GPs or by going to a walk-in centre, the Department of Health said.

Invites are also being sent out in Wales, while in Northern Ireland, walk-in centres are now open to older teenagers, and in Scotland they can register their interest online.

Tens of thousands of people aged 16 and 17 have already had a first vaccine. Having it done by 23 August will mean there is two weeks for them to build immunity before the new term gets under way.

Those aged 12 to 15 who are clinically vulnerable or live with others at increased risk of getting seriously ill with coronavirus are also being invited for their vaccine by that date. However, some parents have told the BBC of their struggles in securing vaccines for children in this group.

Teenagers who are within three months of turning 18 can book an appointment online through the National Booking Service or calling 119.

Health Secretary Sajid Javid urged people not to delay, adding: "Get your jabs as soon as you can so we can continue to safely live with this virus and enjoy our freedoms by giving yourself, your family and your community the protection they need."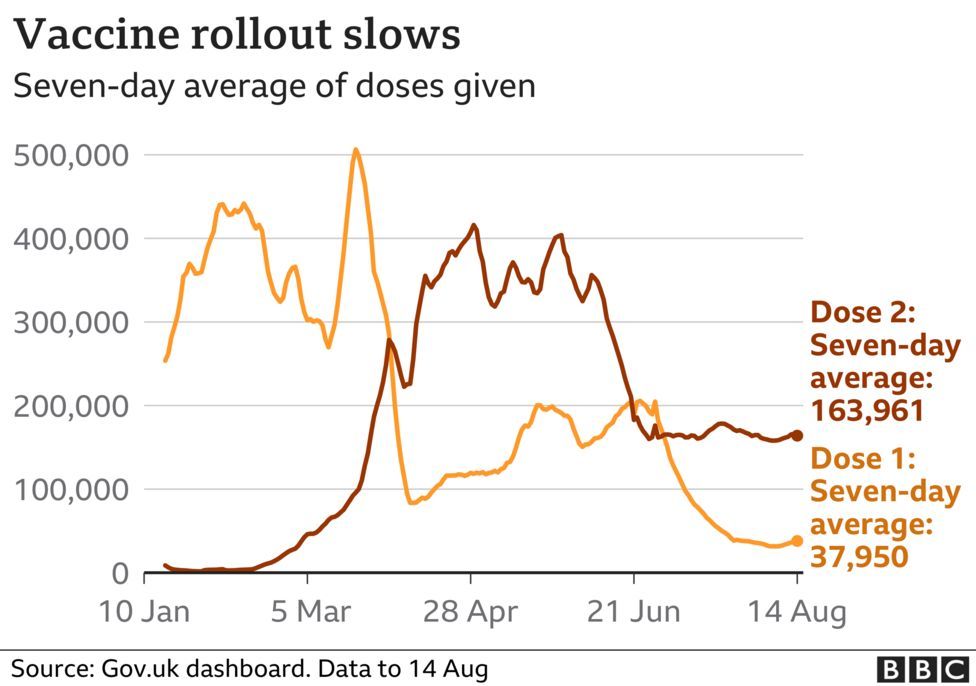 Experts have warned that high levels of coronavirus infection and rising case rates mean the UK is "running hot" when it comes to managing the spread of the disease.

Dr Simon Clarke, associate professor in cellular microbiology at the University of Reading, said on Friday that while vaccines are reducing the number of hospital admissions and deaths, high case numbers "still place an unnecessary burden on the NHS".

The rate of new cases of the virus is currently rising in all four nations, suggesting the sharp fall in Covid-19 cases that had been under way since mid-July has now come to an end.

The National Education Union said the vaccinations of 16 and 17-year-olds would help minimise disruption to education in the next academic year, but said additional safety measures needed to continue in schools.

The union's joint general secretary, Kevin Courtney, said: "With the autumn and winter terms coming up, the issue of crowded schools with no social distancing and inadequate ventilation remains a problem."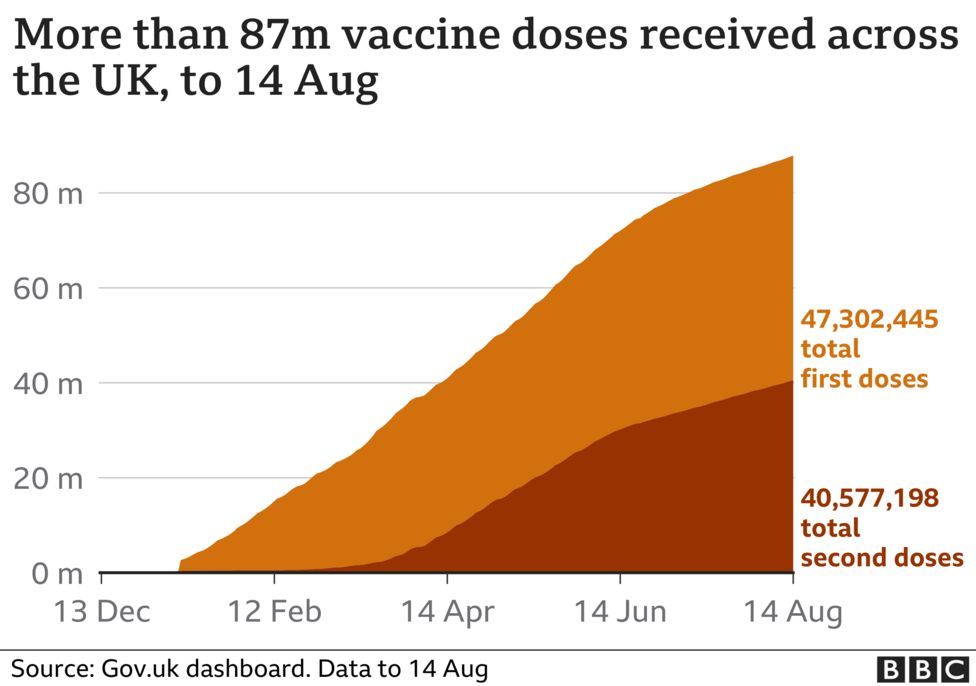 The government says vaccines have saved about 84,600 lives as well as preventing 23.4 million infections and 66,900 hospital admissions by 6 August.

Sunday's data showed that 47,302,445 first doses had now been given in the UK - covering about 89% of the adult population - and 40,577,198 second doses, about 77% of adults.

There were 26,750 new cases announced and 61 deaths, where the person had tested positive within the previous 28 days.

Dr Nikki Kanani, NHS medical director of primary care and deputy lead for the vaccination programme in England, said more than a quarter of a million under-18s had had a first jab so far.

"Now as teenagers prepare to head back to school or college or into their first full-time jobs, once again NHS staff are doing everything they can to offer young people the lifesaving vaccine as quickly as possible to protect themselves and others," she said.

The latest data showed that 70% of people aged 18 to 29 in England had received a first dose of vaccine up to 11 August.

Those aged 16 and above do not need parental consent to get a vaccine as they are considered capable of making their own medical treatment decisions.