More than 400,000 second doses of Covid vaccines have been given in the UK for the fourth consecutive day, according to the latest government data.
A record total of 475,230 second doses were administered on Saturday - along with 111,109 first doses.

On Friday, 450,136 second doses and 106,878 first doses were received.

Prime Minister Boris Johnson welcomed the "record-breaking day", adding that more than seven million people have now been fully vaccinated.

He wrote on Twitter: "Thanks to everyone involved in this extraordinary effort, which has already saved thousands of lives."

Meanwhile, government figures shows there were 1,730 new infections recorded in the past 24 hours and a further seven deaths within 28 days of a positive test.

That is the lowest daily death toll by this measure since 14 September 2020. However, there can be a lag in reporting coronavirus statistics during weekends.

The total number of people to die within 28 days of a positive Covid test is 127,087, according to government figures.

Separate figures published by the UK's statistics agencies show there have been 150,000 deaths registered in the UK where Covid-19 was mentioned on the death certificate.

The latest figures show that of the 39,587,893 vaccinations administered in the UK so far, 32,121,353 were first doses and 7,466,540 were second doses.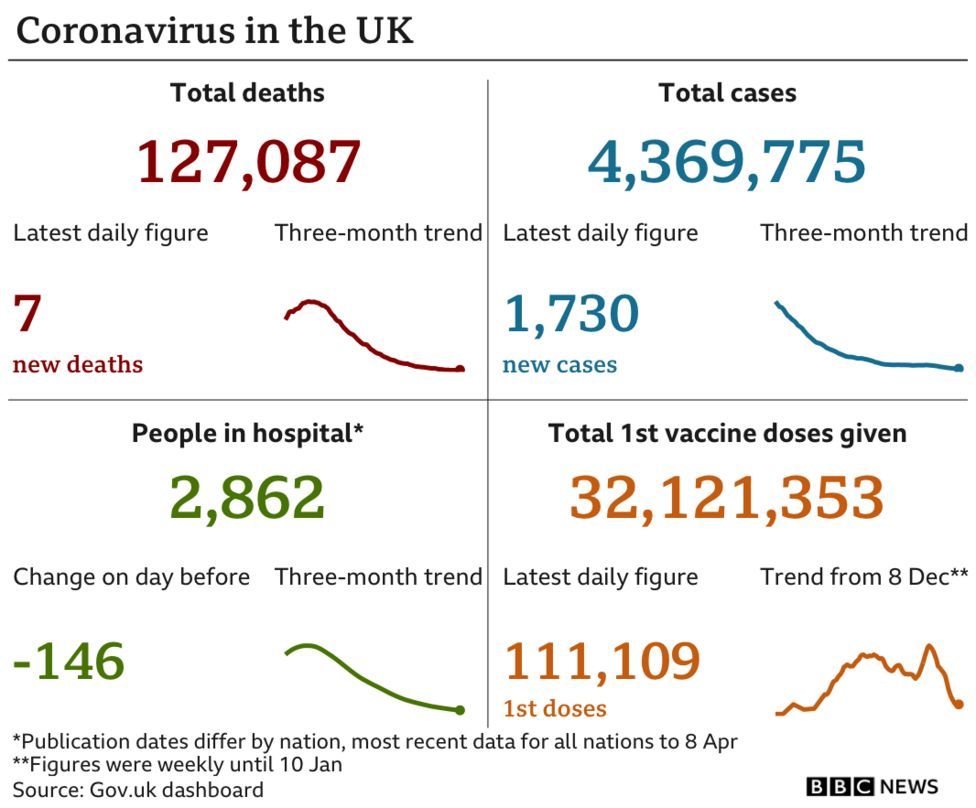 It comes as England and Wales prepare to reopen non-essential retail stores on Monday, as the next step in easing lockdown.

Stage two of the plan to ease restrictions in England will allow pubs and restaurants to serve food and alcohol to customers sitting outside from midnight.

Hairdressers, beauty salons, gyms, theme parks, libraries and community centres will also be able to open their doors in England.

In Wales, Scotland and Northern Ireland all pupils and students will start returning to school, college and other education on Monday depending on term dates.

The wider stages of lockdown easing in Wales, Scotland and Northern Ireland are earmarked for no earlier than 26 April.