But a senior doctor urges action to bring case numbers down as hospitals cope with staff absences.
Health minister Edward Argar appealed for "cool, calm heads", while colleague Steve Barclay said there had been "significant behaviour change" as a result of Plan B measures.

Daily Covid cases have been above 100,000 for each of the past 12 days.

Dr Chaand Nagpaul, council chairman of the British Medical Association, urged ministers to bring case numbers down.

On Sunday, England and Wales recorded 137, 583 daily cases and 73 deaths within 28 days of a positive Covid test. Data for Scotland and Northern Ireland is due to be updated after the bank holiday weekend.

The latest figures for England are down on the 162,572 new cases reported on Saturday, which had been a record number for the fifth day in a row.
NHS bosses have warned of mounting pressure on health workers against a backdrop of staff absences, rising hospital admissions, the implementation of the booster campaign and more planned treatments being carried out.

Speaking before the latest figures were published, Mr Argar insisted he saw nothing in current data to suggest further Covid measures were required.

"We need cool, calm heads," he told Times Radio, adding that introducing new curbs "must be the absolute last resort", echoing the health secretary's words on Saturday.

He said the data changes "day by day" and that ministers were keeping a close eye on it.

Asked whether more measures may be announced this week, Cabinet Office minister Mr Barclay said the government did not think the data supported such a move "at this stage", but said that it would be kept under review.

He said changes in behaviour, brought about by the Plan B measures introduced in December, combined with the booster programme were a key way to "avoid the need for further measures".

"The widespread use of testing is an illustration that the British public are taking sensible steps to keep themselves safe to keep their friends and family safe," he said.

The Plan B measures currently in place in England include mandatory face coverings in most indoor settings, Covid passports for entry to nightclubs and large events and advice to work from home where possible.

Scotland, Wales and Northern Ireland have already imposed additional restrictions, with the closure of nightclubs, limits on live events and socialising with others as well as new rules for hospitality.

Secondary pupils returning to schools in England this week have been recommended to wear masks in classrooms - bringing England in line with the rest of the UK.

Ministers have also been tasked with developing "robust contingency plans" for Covid-related workplace absences. Public sector leaders have been asked to plan for a worst case scenario of up to 25% of staff absent at any one time.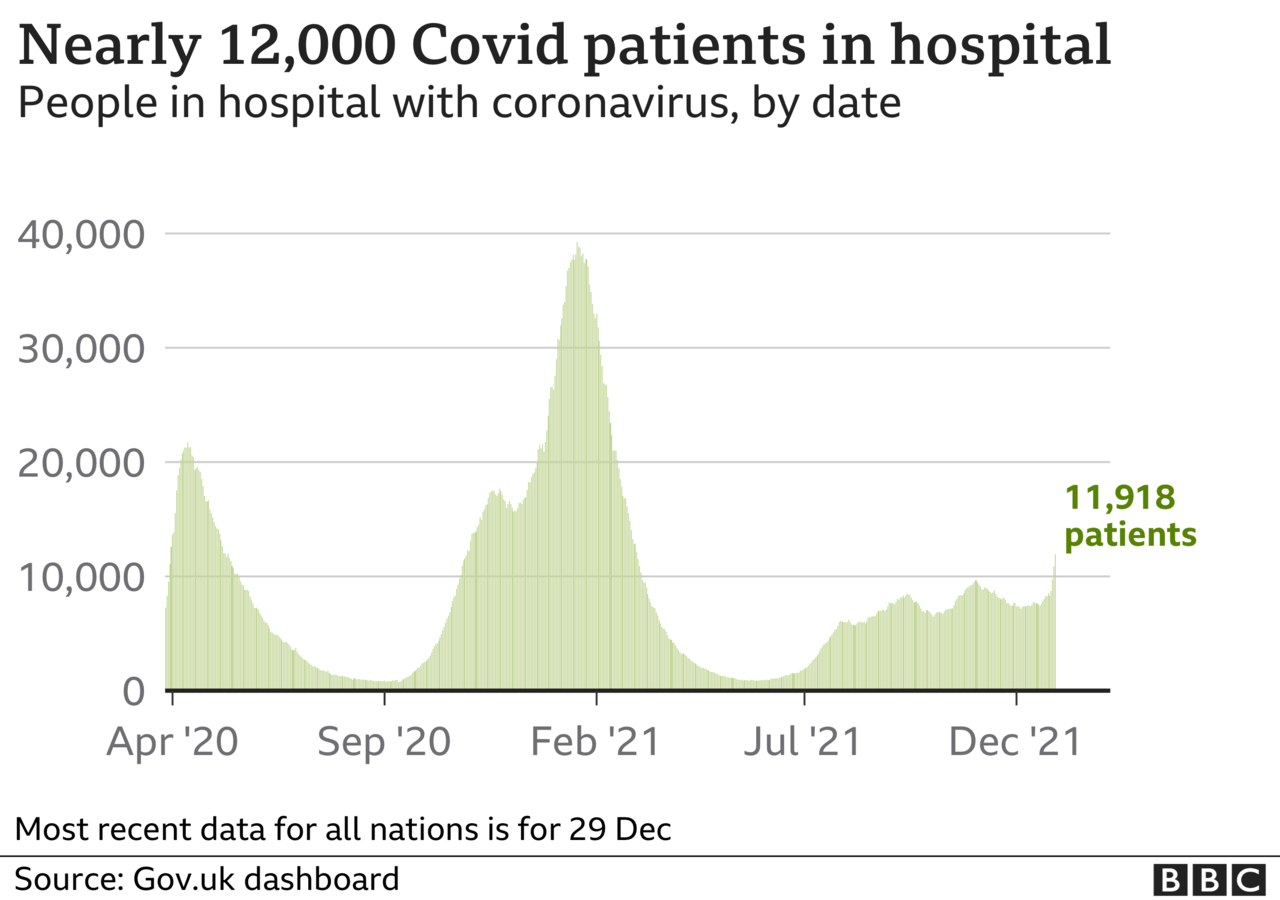 But Dr Nagpaul said if 25% of healthcare staff were unable to go to work, this would have an impact on patients, services and care.

Speaking to BBC News, he urged the government to bring the infection rate down and to give medics better access to Covid testing and higher quality personal protective equipment (PPE).

The number of hospital admissions in England are at their highest level since January 2021, according to the latest figures, while NHS hospital staff absences due to Covid have nearly doubled in a month.

His comments come a day after Chris Hopson, chief executive of NHS Providers, which represents health trusts, said the next few days would be crucial in understanding the impact of Omicron on the NHS.

He said staff were working "flat out" and the NHS was now under "different, arguably more" pressure compared to last January.

The health secretary warned on Saturday that there would be a big increase in the number of people needing NHS care in the next month, which he said was "likely to test the limits" of NHS capacity more than a typical winter.

In Wales, people have been urged to avoid attending the emergency department at Swansea's Morriston Hospital owing to a "staff shortage worsened by Covid".

The breakdown of Sunday's figures was 123,547 new infections and 59 deaths in England, while Wales reported 14,036 new cases and 14 deaths.

Wales' figures cover the 24-hour period to 09:00 GMT on Friday with the next update covering the bank holiday weekend due to be published on Tuesday.

England's current restrictions are due to expire on 26 January, although a review is expected in the next few days.