As a Cornish painter and decorator, Heath Robinson spends a lot of time maintaining holiday homes - but he never thought he'd end up living in one.
When his landlord needed to sell up, single-parent Heath realised private rents in Penzance, his hometown, had rocketed.

The council couldn't find anywhere to house him and five-year-old son Carson - and they were declared homeless.

But just as they prepared to move to a low-budget hotel, a local man saw Heath's panicked social-media posts and offered them his Airbnb.

The irony of the situation isn't lost on Heath.

"Because of the pandemic, over the past two years pretty much all my clients have been second homers and Airbnb people," he says.

"These people need me for their businesses - but because of the way the system is, we are being driven out.

"High earners can now live somewhere like here rather than in the city and that's hiked up the prices."

Heath had been served a Section 21 "no fault" eviction notice, which allows private landlords to ask tenants to leave, if they meet certain conditions, without giving a reason.

While renters were given extra protection earlier in the pandemic, in England only two months' notice now has to be given.

And that's made life difficult in visitor hotspots such as Cornwall, where landlords are capitalising on rising house prices and lucrative short-term lets.

'It's badly affected my mental health'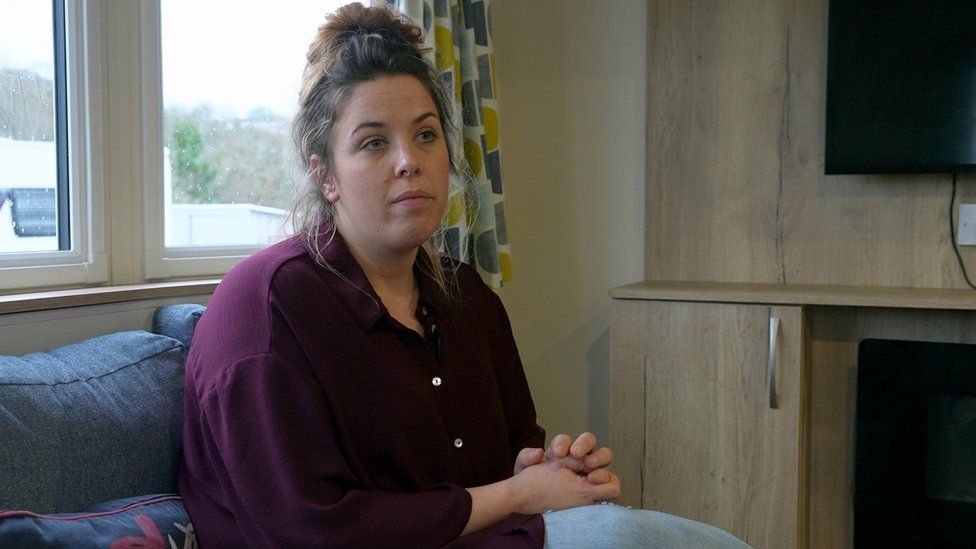 Laura feels isolated in the caravan park

Student Laura Williams has had to move to a caravan park, along with fisherman husband Jason and their four children under 10.

She says her landlady served her a no-fault eviction notice after they asked for some repairs.

Laura found one other affordable property in her hometown, Newlyn, but more than 100 people had already enquired.

So three months ago, the council moved the family into an off-season holiday park, half an hour away.

Work, college, school, nursery and their families are back in Newlyn, where Laura often ends up spending the day because of the petrol costs of going back and forth.

"It's quite sad actually," she says.

"I drive over there and I think that's home for us - that's always been our home.

"We don't want a massive house, we just want a home for our kids and for them to be close to where our life is."

Life in the caravan is cramped but lonely.

Her husband is often away at sea and she isn't allowed visitors.

And it could get worse - the family have been told they may be moved as far as Devon next month, when the caravan is needed for tourists again.

"It makes me feel quite anxious," Laura says.

It's affected my mental health quite badly, just the not knowing and being here when my husband's away is quite hard because I've got no friends close by."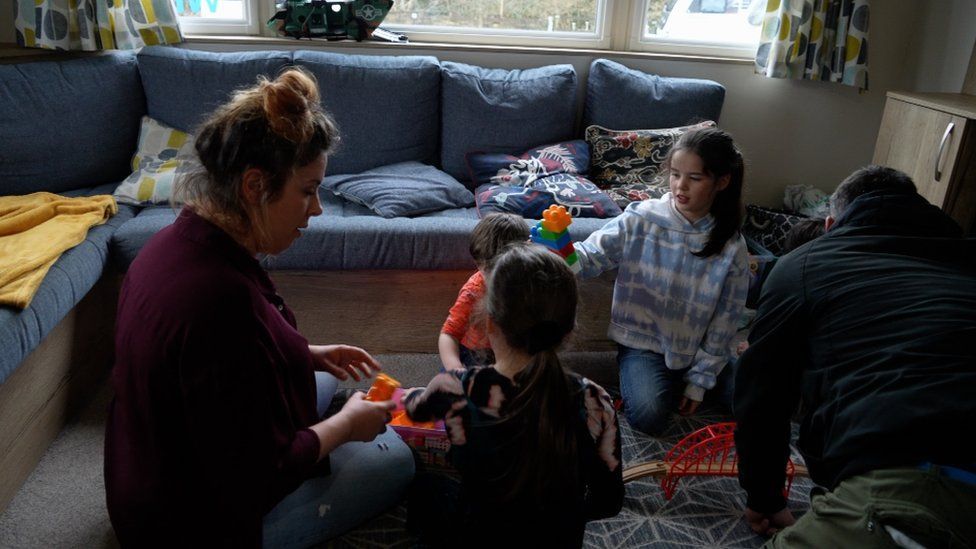 Laura says things are cramped in the caravan

The family had been saving to buy a house - but there's no chance now.

"Our days of thinking about buying are well and truly gone, with the prices how they are," Laura says.

House prices in Cornwall rose 50% faster than the UK average in the first year of the pandemic, to £270,000 - 13 times the average local salary, £20,710, which is 20% lower than that of the wider UK.

And there's big price variation around the county, with properties in towns such as Padstow averaging about half a million pounds.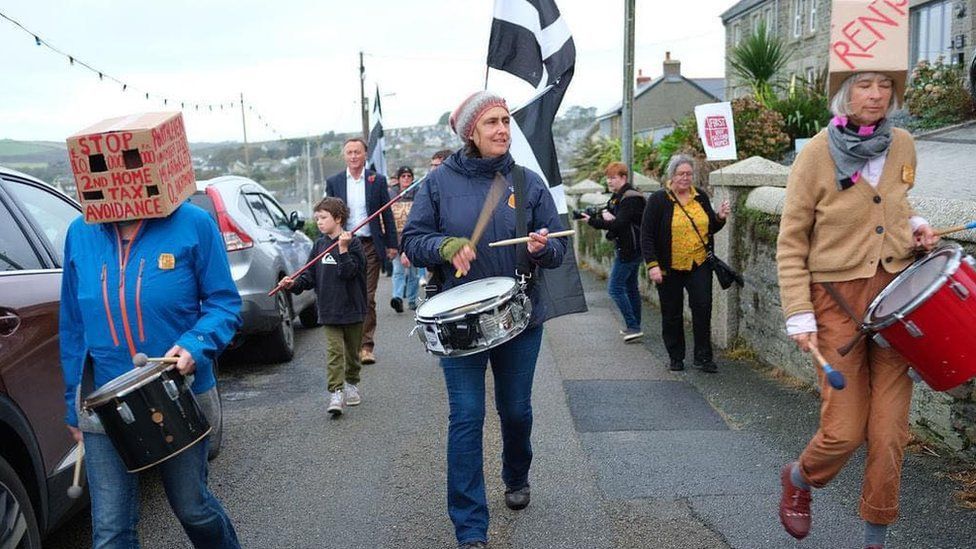 Cath (centre) on a First Not Second Homes march

Cath Navin Hayes, who founded Cornwall campaign group First Not Second Homes, estimates 660 households are in temporary emergency accommodation, two and a half times the usual rate.

"Not enough affordable housing is being built and the private rental market has virtually no properties - and they are often too expensive for the average Cornish wage," she says.

"The pandemic has intensified the problem, with staycations and a lack of foreign travel encouraging investment in property and a flipping by landlords from long- to short-term holiday letting."

The number of short-term listings in Cornwall rose by 661% in the five years to September 2021, analysis from the countryside charity CPRE suggests.

About 15,000 properties are now available as holiday lets, the charity says - the same as the number of families on social-housing waiting lists.

No-fault evictions are banned in Scotland and the UK government, which has been pledging to put a stop to them since 2019, says details of a UK-wide ban will be unveiled in the Renters' Reform Bill in the spring.

But the National Residential Landlords Association says these changes might cause landlords to leave the sector, resulting in a lack of affordable housing.

It wants Section 21 evictions replaced with a clearer system for landlords to legitimately repossess their properties.