US President Joe Biden has left Scotland after a two-day visit for the COP26 climate change summit.
Mr Biden used his final address to hail the progress made at the summit so far but also criticised China and Russia's leaders for not showing up.

The president said the vast majority of world leaders viewed the conference as an opportunity to "press the restart button".

Air Force One left Edinburgh Airport at about 22:00.

Mr Biden used his final news conference in Scotland to criticise the world leaders who had decided against attending COP26.

"We showed up... and by showing up we've had a profound impact on how the rest of the world is looking at the United States and its leadership role," he said.

The president added that the absence of the Chinese leader Xi Jinping at the summit was a "big mistake".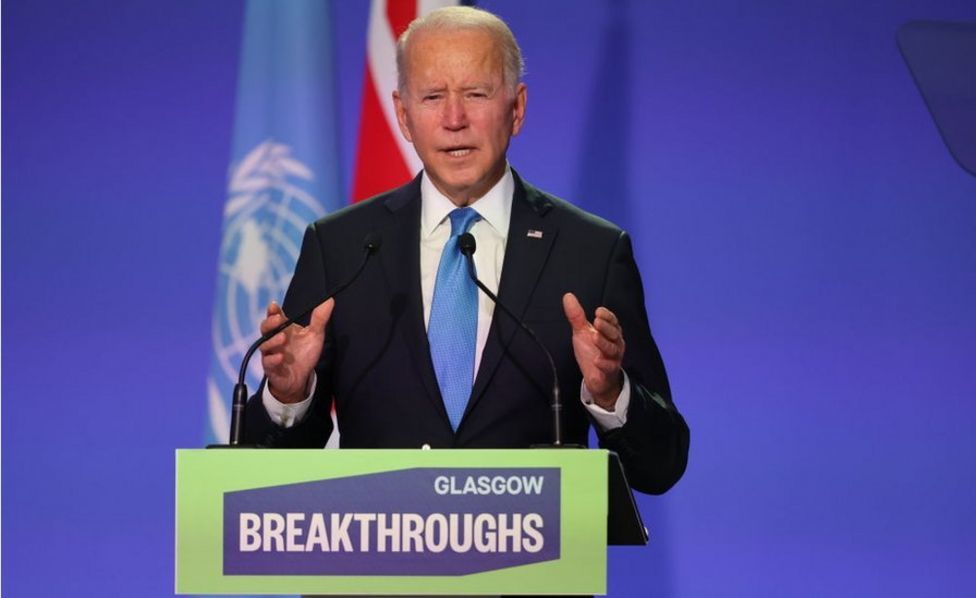 Trying to be upbeat, the president said the vast majority of world leaders viewed the conference as an opportunity to "press the restart button".

The US president hailed breakthrough deals on forest preservation and methane emissions that were formally announced during the first two days of COP26.

"I think we got a lot done. We had a lot of substantive meetings," he said.

Mr Biden also paid tribute to the "the passion and the power of the young people and the activists" who he said were in Glasgow "reminding us of our obligation to future generations".

Mr Biden arrived at Edinburgh Airport on Monday morning before heading to the climate change summit in Glasgow.

A fleet of police and Secret Service vehicles, including Mr Biden's armoured car nicknamed "The Beast", travelled along the M8 motorway to the conference venue.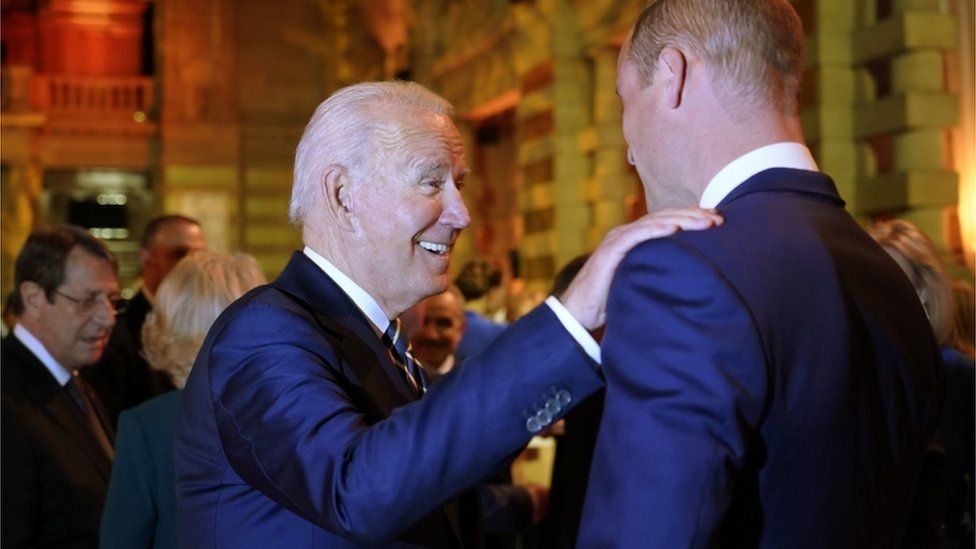 On Monday evening the US president joined world leaders and members of the Royal Family for a dinner reception at Glasgow's Kelvingrove Art Gallery and Museum.

Mr Biden stayed overnight at the Dalmahoy Hotel near Kirknewton in West Lothian during his stay.

'Large, naked Scottish man'

His trip back to Glasgow on Tuesday morning involved an unusual observer.

According to a White House report one local dropped literally everything to grab a photo of the president.

The report says: "At one point when we were still on smaller country roads, a large, naked Scottish man stood in his front window taking a picture of the motorcade with his phone."

The summit continues on Wednesday with further talks between countries on further actions to tackle climate action.

Chancellor Rishi Sunak will be in Glasgow at an event marking progress on delivering the finance to deliver action on climate change.

London mayor Sadiq Khan will join Nicola Sturgeon to open a green investment showcase at the summit.

The COP26 global climate summit in Glasgow in November is seen as crucial if climate change is to be brought under control. Almost 200 countries are being asked for their plans to cut emissions, and it could lead to major changes to our everyday lives.