Prince of Wales and Duchess of Cornwall will surprise the residents of Albert Square at street party
The Prince of Wales and Duchess of Cornwall are to appear as themselves in an episode of EastEnders to mark the Queen's platinum jubilee.

Charles and Camilla were filmed visiting a fictional Albert Square jubilee street party when they visited the soap set in March, the BBC announced. The episode will be broadcast on 2 June, at the start of the long bank holiday weekend for the jubilee.

In the scene, Charles and Camilla will be greeted by the Queen Vic landlord, Mick Carter, played by Danny Dyer, and his wife, Linda, played by Kellie Bright.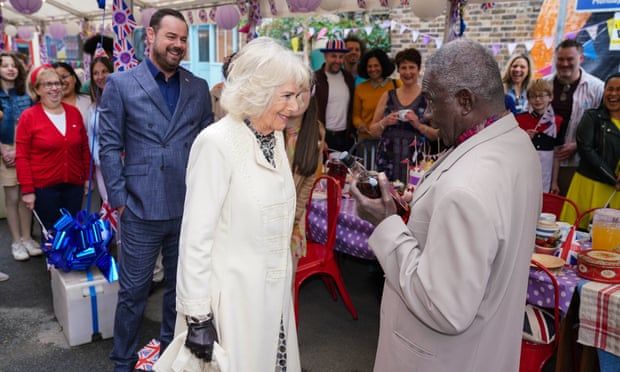 Camilla meets actor Rudolph Walker, who plays Patrick Trueman.

The shows executive producer, Chris Clenshaw, said: "Linda Carter is naturally in her element and giddy with excitement as their royal highnesses arrive in Walford, but it wasn't just her, as for all of us at EastEnders it was an extremely special day that will go down in EastEnders history."

Bright said the royal couple had been "amazing sports" on set. She added: "I just thought, 'wow, they've never done anything like this before'. They didn't really know what to expect, I mean it must have been nerve-racking for them and completely out of their norm."

The royal commentator Jenny Bond said: "It's a closely guarded secret exactly what they say. I don't think they had to learn many lines. Essentially they are themselves and they're going to be doing what they're going to be doing a heck of a lot of in the next couple of months – attending a jubilee party."

Speaking to BBC News, she added: "It's just a bit of fun of them taking the mickey out of themselves."

Members of the royal family have made a number of visits to TV soap opera sets in an attempt to show they are in touch with modern Britain. In 2001 the Queen and the Duke of Edinburgh were given a guided tour of Albert Square by Dame Barbara Windsor, who played Peggy Mitchell in the show.

Bond, who was covering the event at the time for the BBC, said Prince Philip did not recognise the actor Adam Woodyatt, who had played Ian Beale from when the show launched in 1985. Bond recalled the duke asking Woodyatt if he was "one of the technical chaps".

Last year the Queen visited the set of Coronation Street, and in 2000 Prince Charles appeared in a fictional news bulletin that featured in the ITV soap.