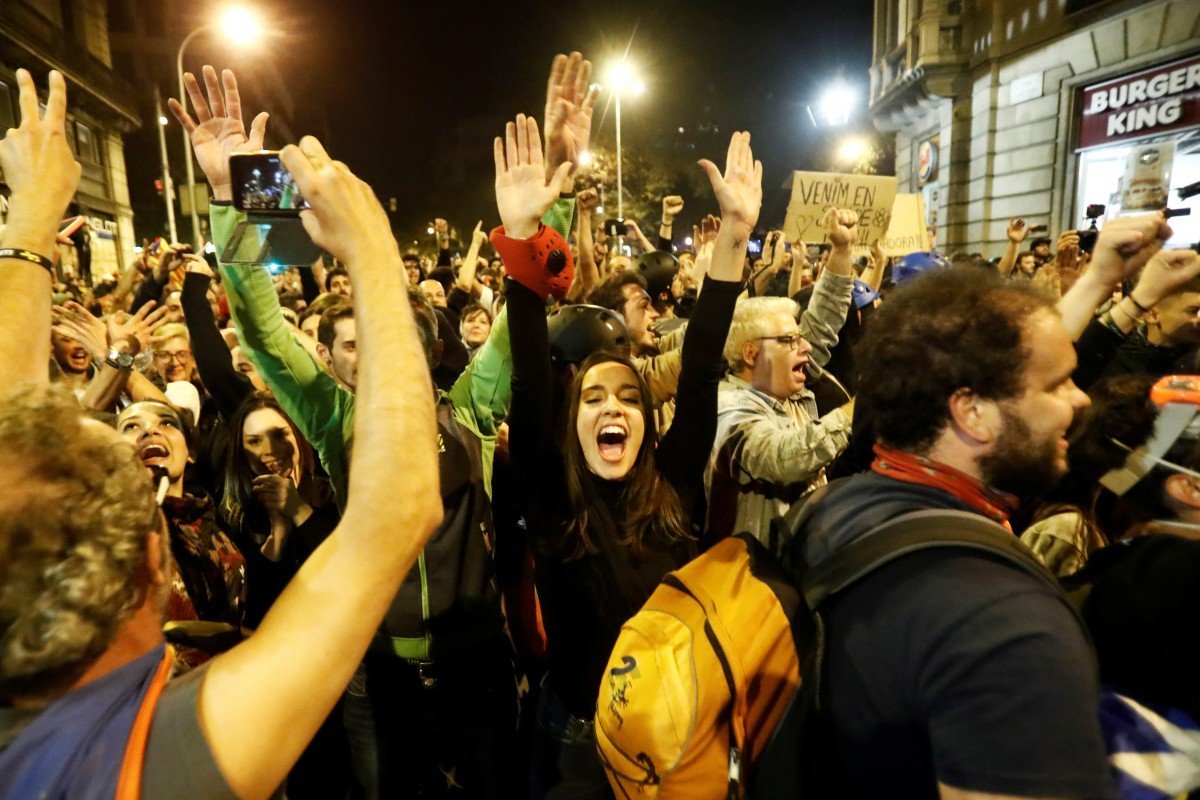 Catalan protests fuelled by 'chaos' in Hong Kong, Chinese ex-envoy says
Such 'tone-deaf narrative … might play well to a domestic nationalist audience' but damages 'China's nascent efforts at building soft power across Asia', academic says.
'We can expect that other countries and cities may be struck by this deluge' Wang Zhen says in commentary in Communist Party newspaper

The recent demonstrations and violent protests in Barcelona in support of Catalonian independence show that the anti-government "chaos" in Hong Kong has spread to the Western world, according to a former Chinese ambassador.

In a commentary published in Beijing Daily on Sunday, Wang Zhen, China's erstwhile envoy to Uruguay and Venezuela, denounced a popular protest website, shut down by Spanish authorities on Friday, that called for the creation of a "second Hong Kong" in Catalonia, where some have been fighting for independence from Madrid for decades.

Tensions in the region peaked last week following the sentencing of Catalan independence activists. In response, more than half a million people took to the streets of Barcelona, the region's capital, according to police estimates.

Protest website Democratic Tsunami called for the closure of Barcelona airport, leading to dozens of flight cancellations, while clashes between police and protesters continued through the week and 17 people were arrested.

"This shows the disaster of 'chaos in Hong Kong' has already hit the Western world," Wang said in reference to the situation in Spain. "We can expect that other countries and cities may be struck by this deluge."

Beijing Daily is the official newspaper of the municipal Communist Party committee in Beijing.

Wang criticised the website for urging protesters to "study the experience of Hong Kong".

The site, which gathered a large social media following after being created last month, was shut down by Spanish authorities on Friday.

Wang said the Spanish government's actions were "legal and correct".

But Sean Starrs, an assistant professor in the department of Asian & International Studies at City University of Hong Kong, said Wang's comments showed "how out of touch Beijing's official position continues to be".

"While there are minority separatist elements in Hong Kong, the massive protests since June with broad popular support have been more about defending 'one country, two systems' and fulfilling the intent of Article 45 of the Basic Law by implementing universal suffrage to elect Hong Kong's chief executive," he said.

"While this might play well to a domestic nationalist audience in the mainland, such tone-deaf narratives continue to damage China's nascent efforts at building soft power across Asia and beyond – not to mention in Taiwan or Hong Kong."

In his commentary, Wang tried to liken the protests in Hong Kong to the independence movement in Scotland.

"The latest news shows that 'independence' is brewing in Scotland … and I fear these are not mere rumours," he said in the article titled "Why has Barcelona become Baghdad?"

It made no other mention of the Iraqi capital.

While thousands of people marched in Edinburgh on October 5 in support of Scotland breaking away from the United Kingdom, the Scottish independence movement has been around for centuries.

The protests in Hong Kong started on June 9.

Beijing has repeatedly sought to lay the blame for the ongoing unrest in the former British colony at the feet of countries like Britain and the United States, which it claims support "separatist forces" in Hong Kong. Protest leaders in the city, however, dismiss claims they are separatists.

The Chinese commissioner's office in Hong Kong blasted US House Speaker Nancy Pelosi for meeting student protest leader Joshua Wong in September, saying she had "flagrantly colluded" with him to meddle in China's internal affairs.
Wong said last week he was not a pro-independence activist.