British Airways has apologised after cancelling all short-haul flights from Heathrow Airport on Saturday morning.
The airline said on Saturday afternoon that its IT systems were back working again after technical issues, which it said were not caused by a cyber attack.

BA said there continued to be some cancellations but the majority of flights were now taking off as planned.

Long-haul flights continued to operate with some delays, but all short-haul flights were cancelled until midday.

Passengers travelling from Gatwick or London City Airport also faced some delays due to the issues.

In its Saturday afternoon statement, BA said it was now aiming to complete the day's flying programme and helping customers whose flights had been cancelled to rebook.

The major outage caused pile-ups of luggage and some customers were stuck on planes after landing at Heathrow.

BA said it knew it had "let customers down" and would do everything it could "to make this up to them".

"But for now our focus is on getting as many customers and flights away as we can," the company added.

It is giving customers on cancelled services the option of getting a full refund. Passengers due to fly on short-haul services from Heathrow on Saturday could also choose to rebook for a later date, for free. BA said it would be contacting customers "proactively".


Departures board a sea of red

The Heathrow Terminal 5 departures board showing most of British Airways flights from the airport (some go from T3) was a sea of red on Saturday morning.

The airline's short-haul flights were cancelled as a result of technical issues which started on Friday.

Tenerife - Zurich - Grenoble - Istanbul - Salzburg were all off the cards. Only flights to the likes of New York, Doha and Mumbai were showing as boarding and on time.

Domestic flights from the likes of Edinburgh and Manchester were cancelled too, because they would have started their journeys in Heathrow.

British Airways says a perfect storm of systems issues was to blame.

So check-in systems, stand planning - the computer systems which direct the aircraft to gates - and the flight management systems, which send flight plans out to crews. As well as cabin crew allocation. On top of this, a lot of aircraft and crews were "out of place" because of the storm disruption last week.

All these things are possible to control manually, but they are slower.

As a result, BA said it was prioritising its long haul flights on Saturday morning because they carry more people, are less frequent and people using them have fewer other options. The company said it was trying to protect as many passengers as possible.

The issues began on Friday with BA's website and app were inaccessible for several hours, leaving customers unable to book flights or check-in online.

The latest problems come after BA apologised for "letting people down" last week, when storms caused delays to unloading and loading luggage.

'The kids are upset'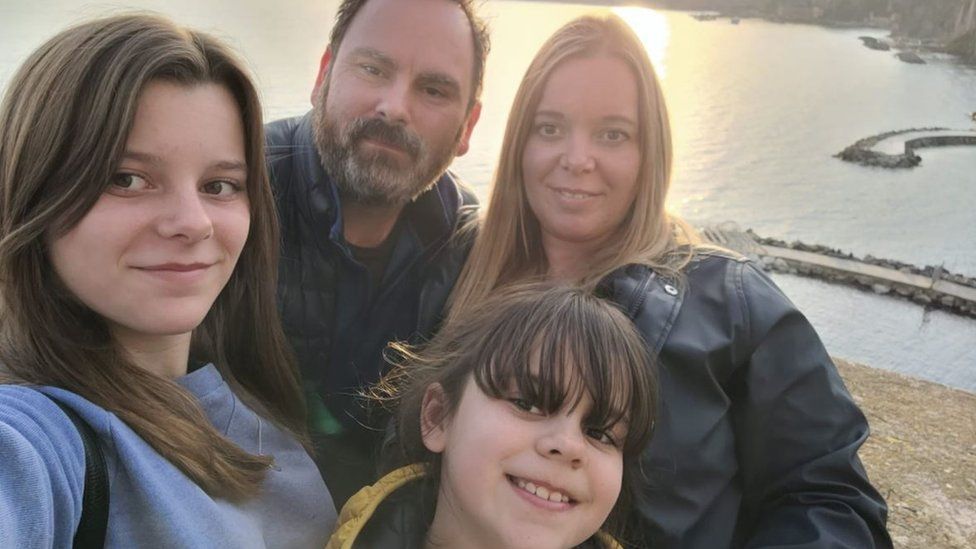 Tom, his wife Michelle and their daughters Daisy and Poppy spent a few days in Naples

Tom O'Regan and his family were expected to return to London on Saturday after a holiday in Italy.

But their flight from Naples was among those cancelled. He said the next BA flight available would not be until next Tuesday.

"I don't see how that is acceptable really," he said, speaking from the airport.

"Our children are missing school because of it, we were supposed to be working on Monday."

Tom, from Liphook, Hampshire, said he had not been able to speak to anyone from the airline but he was expecting compensation for the extra costs.

He also told the BBC he was struggling to find a hotel for him, his wife and their two daughters.

"If we don't find anything the next step is to contact the embassy and see what they suggest," he added. "The kids are upset, we are stressed."