BRITAIN'S BIGGEST FAMILIES: 31 Kids And Counting The Pennies is a new ITV series delving into the lives of some of the country's largest households. Here's all you need to know about the families.
Britain's Biggest Families: 31 Kids And Counting The Pennies is making its debut on ITV at 9pm tonight (May 13). The documentary TV series offers insight into the lives of three separate families, who all have between nine and 11 children each. Express.co.uk has all you need to know about each of the couples and their children.

The Suttons - 11 children

The Sutton family consists of Nicole and Joseph Sutton and their 11 children, all between the ages of 14 and six months.

The family is from Cumbria and the children include Rhiannon, 14, Lacey, 12, McKenzie, 11, Skylar, nine, and Henley, seven.

There's also twins Cobi and Parker, aged six, Hadley, four, River, three, Ocean, two and Navy, who is six months old.

Nicole, who is 30, said she wanted the best for her children following her own difficult childhood.

Husband Joseph is a coach driver, and the couple gave insight into their weekly bills. Their weekly shop costs between £80 and £200.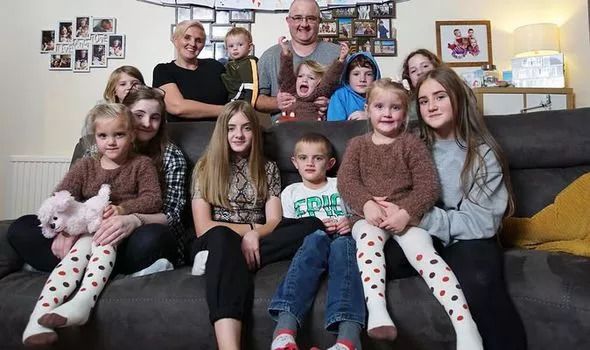 Britain's Biggest Families: The Sullivan Family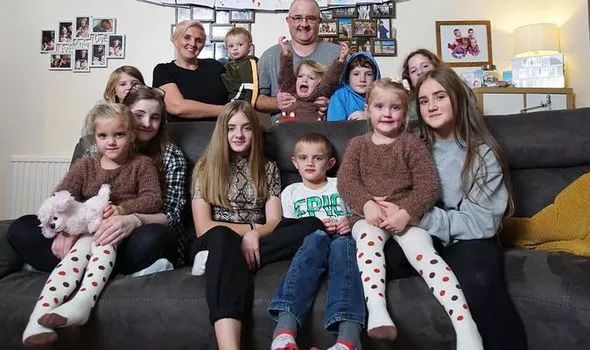 Britain's Biggest Families: The Suttons outside their home

Nicole's trick is to add everything up as she goes along while she is in the supermarket.

She is aware Joseph, 35, is one for buying too many snacks and she is keen to save money wherever she can.

She works at a chocolate shop on Sundays, leaving her weekdays free to look after the children.

The money she earns goes towards Christmas and birthday presents for her children.

The family does not get to go out on day trips very often, so they make the most of the small things in life.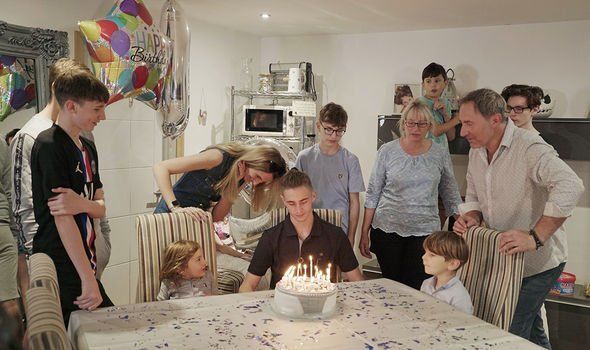 Britain's Biggest Families: Oliver Seymour celebrates his 19th birthday
The Seymours - Nine children

The weekly budget is not a problem for Layden and Fran Seymour, who live in Suffolk with their nine children.

Their eldest is Taylor, 21, followed by Oliver, 19, Morgan, 17, Ashton, 15, Jenson, 13, Tristan, 11.

There is also Gemma, nine, Xavier, five, and Radley, who is the youngest at three years old.

The couple run a number of businesses including a soft play centre, and they have a boutique B&B in the making.

Layden, 50, has £70,000 worth of Rolex watches so they definitely know how to live a life of luxury.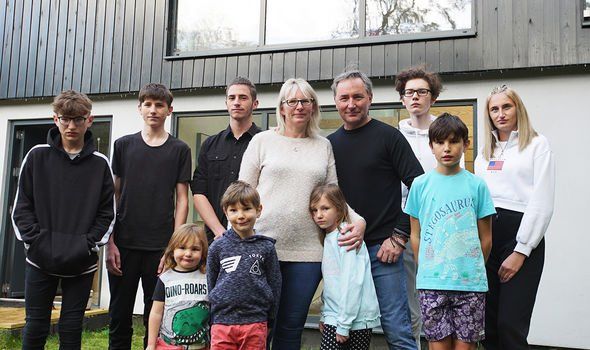 Britain's Biggest Families: The Seymours

Fran, who is 48, revealed she spent £800 on school uniforms for the children.

Things have not always been smooth sailing for the couple, who had to live in a friend's caravan when times were tough.

They said they would go without food some days, just so they could feed their children.


The Sullivans - 11 children

Ben and Zoe Sullivan lead a very busy life and their day starts at 5am.

By 7.30am the children are fed, washed and dressed and Ben goes off to work as an RAF aircraft engineer.

Zoe is left to get the older children off to school, including Elizabeth, 15, Olivia, 13, twins Isabelle and Charlotte, 12.

There is also Noah, 10, Eva, eight and twins Leah and Erin, four. The younger children are Agnes-May, three, and Joseph, two.

The family live in Lossiemouth, Scotland, and they say the house is always full of noise as there is always something going on.

Ben described it as like living in a Travelodge when he spoke to The Mirror.

Zoe says she would like to expand their family and she is keen to have another baby.