Boris Johnson has dismissed threats to his leadership, as the row over lockdown parties in Downing Street continues.
Questions over the PM's position have been reignited this week after MPs backed a Commons inquiry into whether he has misled them.

A senior Tory predicted it is "a matter of when not if" the PM now faces a no confidence vote from his own MPs.

But Mr Johnson insisted he would still be in office this autumn.

Asked during a trip to India whether he would still be in post by his October target for a trade deal with the country, he replied: "Yes".

And he sought to play down the partygate row, saying voters wanted the government to "focus on the issues on which we were elected".

Mr Johnson is facing a future investigation by the Commons privileges committee, after MPs gave the go-ahead on Thursday.

No 10 initially tried to delay a vote on approving the inquiry, but later backed down in the face of unease among Tory backbenchers.

The committee will determine whether he misled MPs by telling them Covid rules were followed in No 10 - a charge regarded as a resigning matter under the ministerial rulebook.

Last week, Mr Johnson, his wife Carrie and the Chancellor Rishi Sunak were fined by the police for breaching lockdown rules by attending a gathering to celebrate his birthday in June 2020.

The PM is known to have attended at least two more of the 12 events being investigated by Met police, meaning he could be fined again.

The fine has led to renewed calls for Mr Johnson to resign - and increasing speculation he could face a leadership challenge from within his party if May's local elections go badly for the Tories.

Tory peer and polling expert Lord Hayward said he expected Mr Johnson to eventually face a leadership challenge.

He warned the various investigations into the PM's conduct could prove a "death by a thousand cuts" - and figures in the party wanted the question over his position to be resolved.

"We are moving to a position, despite what the prime minister says, [where] Tory MPs, Tory associations, Tory councillors, do not want an even more protracted process," he added.

"We've had it basically since before Christmas now, and I expect that were will be some form of contest for leadership at some stage."


Hindsight may have helped, but some Conservative MPs claim Thursday's chaotic events in Parliament could've been predicted.

They point back to Tuesday when relatively few Tory backbenchers stood up to defend Boris Johnson after his statement about being fined.

Something has shifted according to one critic of the prime minister, who claimed more and more of their colleagues were reluctant to back him in public.

Boris Johnson still has plenty of supporters and many are giving him the benefit of the doubt until after the police investigation and Sue Gray report.

The patience of some others is wearing thin, but there is no sign of any immediate co-ordinated move to challenge the PM's position.

Nevertheless, Boris Johnson will return from his trip to India having lost the support of more of his MPs and facing a third investigation into his conduct.

Earlier, Tory MP Tobias Ellwood said Conservative MPs were "deeply troubled" about the "long-term damage to the party's brand" caused by the partygate saga.

Also predicting Mr Johnson would face a vote of no confidence, the defence committee chair accused No 10 of lacking "discipline, focus and leadership".

Labour shadow minister Peter Kyle said Mr Johnson was a "dead man walking" who could no longer manage the country or his own party.

But Northern Ireland Minister Conor Burns, a longtime ally of the PM, dismissed criticism from Conservative MPs, saying some of his colleagues had never supported the prime minister.

"If the prime minister stepped off Westminster Bridge and walked down the Thames on top of water they would say it was because he couldn't swim," he said.

SNP leader Nicola Sturgeon - who was herself spoken to by police after being filmed breaching Scotland's face mask rules - said Mr Johnson was "unfit for office" and predicted he would be forced out.

Liberal Democrat deputy leader Daisy Cooper said the Partygate issue was "a huge distraction for Boris Johnson and the government, and this is why he should have resigned a long time ago."

What will happen with the inquiry?

The Commons privileges committee will determine whether the PM committed a "contempt" of Parliament by knowingly misleading MPs.

It is made up of seven MPs - two from Labour (Yvonne Fovargue and Chris Bryant), one SNP (Allan Dorans) and four Conservatives (Andy Carter, Alberto Costa, Laura Farris and Sir Bernard Jenkin).

Mr Bryant, who chairs the committee, has stepped back from the investigation as he had already commented publicly on the matter.

It is understood that Labour is considering options within the party to replace him during the investigation.

If the committee finds Mr Johnson did mislead Parliament, they can recommend a sanction which could include suspension from Parliament or ordering him to apologise.

The whole House of Commons would then have to sign off on any punishment.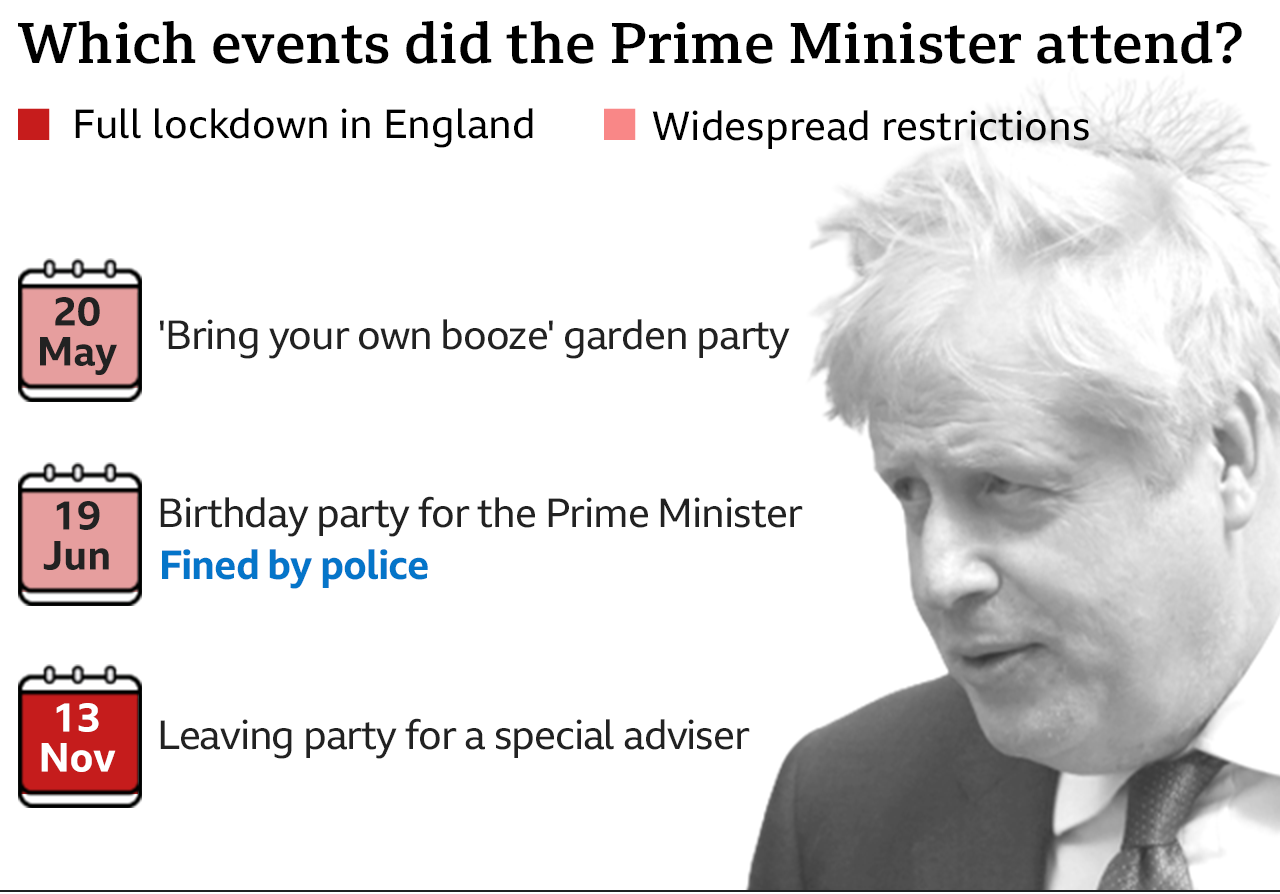 WATCH: Ros Atkins On… The PM and the Ministerial Code