Boris Johnson has said people should not worry about putting food on the table this winter, amid surging energy prices and a cut to universal credit.
The prime minister told BBC News: "I don't believe people will be short of food - and wages are actually rising."

It comes after Business Secretary Kwasi Kwarteng warned some households face a "very difficult winter".

Energy and food bills are rising due to a spike in global gas prices - and many families face a £20-a-week benefit cut.

The cost of protecting customers from failing energy providers could lead to higher bills, the boss of the energy regulator Ofgem has warned.

Speaking to the BBC in New York, where he has been meeting world leaders at the United Nations, Mr Johnson said the surge in energy prices was a "short-term" problem caused by "the global economy coming back to life" after the coronavirus pandemic.

"We are talking to the energy companies - doing what we can to keep prices low, to make sure that the supermarket shelves aren't empty," he said.

Carbon dioxide deal

Households across England, Scotland and Wales are set to see their energy bills rise by an average of £139 a year in October.

Workers also face a rise in National Insurance payments from next April, to help fund higher costs for the NHS and social care.

In his BBC interview, Mr Johnson insisted the gas price increase was an "interim" issue and the global energy markets would "rectify themselves".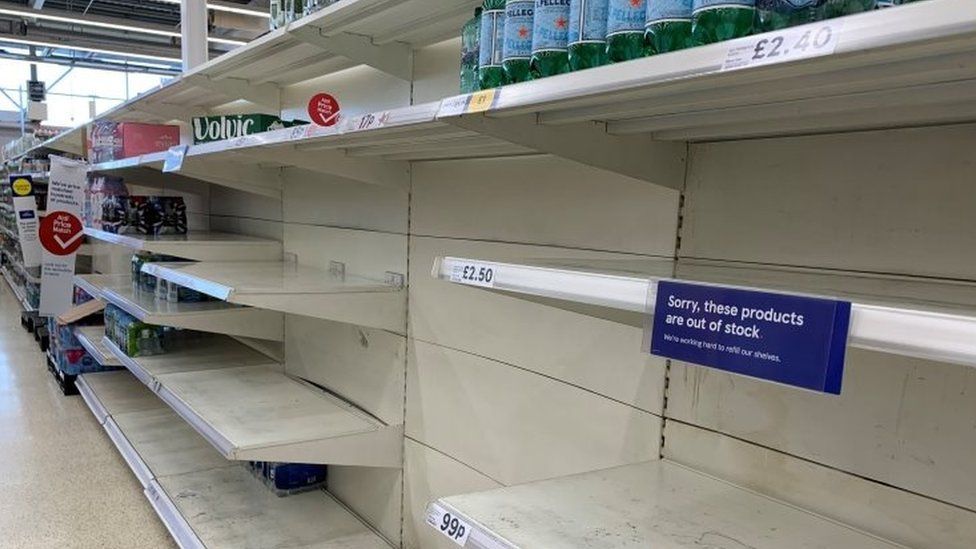 It showed that the UK was right to be moving to renewable energy, he added.

The government is hoping to limit further energy bill rises by keeping a price cap in place, and also plans to help bigger firms take on customers from small suppliers that have gone bust.

Separately, the government says it has taken action to prevent supermarket shortages with a deal to restart production at CF Industries, the UK's biggest producer of carbon dioxide.

The gas is widely used by the food industry to prolong shelf life.

It is not clear yet what incentives the government have offered the firm.

Is Johnson out of touch over household bill fears?

Energy price rises have been as dizzying as New York's skyscrapers - but Boris Johnson was reluctant to acknowledge the squeeze on supply was anything more than a short-term problem.

The government has managed to broker a deal on CO2, but the pressure points this autumn go beyond that.

There are real fears at home about household bills, food supplies, and rising prices.

But Mr Johnson blamed the pressures on the pandemic, saying the issues were just in the "interim".

While he said the government would help where it could, he did not provide details of any further actions the government might take, placing his faith in the market to resolve the crunch and pointing to his energy "ten-point plan".

A long-term Whitehall plan may not be that much comfort to those worrying about paying higher bills right here and now.

Mr Johnson has again rejected calls from Labour and many Tory MPs to scrap the cut to the £20 a week top-up to universal credit, which some MPs have warned will push many working families into poverty.

Instead of keeping the top-up, which was brought in to help people through the pandemic, Mr Johnson said: "We think the best thing we can do is help people into high-skilled, high wage jobs, that is what is happening,

"Unemployment is falling very rapidly, jobs are being created, wages are rising.

"And rather than raising people's taxes to put more money into benefits, we want to see companies paying their workers more."

Labour held a debate in the Commons, calling on the government to halt the proposed cut to the universal credit top-up.

The party's shadow chief secretary to the Treasury, Bridget Phillipson, said working families faced a squeeze on living standards this winter "on a scale not seen for a generation" - and it was down to government decisions, not an "unforeseeable series of unhappy accidents".

"Incomes are coming down, prices are going up - especially energy prices - taxes are going up, rents are going up, childcare costs are going up, fuel costs are going up, rail fares are going up.

"And with empty shelves in too many shops, restaurants closing because of meat shortages, and now refrigerant shortages putting Christmas at risk, it isn't just that people can afford less, there is also less to afford," she told MPs.

Speaking on BBC Two's Newsnight programme on Monday, the Conservative former Brexit Secretary, David Davis, warned there was a risk of a "cost of living crisis" for new Tory voters such as "the plumber, the bricklayer, the lorry driver".

He said his advice to Chancellor Rishi Sunak would be: "You think hard about the ordinary family's take-home pay and what they have to buy with it, because that will be a dictator of how people feel going in to the new year."