In November 2017, Bill Turnbull took part in a celebrity edition of The Great British Bake Off.
The show was in aid of a charity, Stand Up to Cancer. During filming, he found he had the disease himself.

He had been suffering from pains in his legs but hadn't wanted to bother his doctor. Eventually, his son persuaded him to take a blood test.

At the end of the show, Turnbull broadcast an emotional message. He explained that his prostate cancer was terminal and had already spread to his bones.

"A black curtain" descended after the diagnosis, he said. "If I had been tested a few years ago, we would have knocked it on the head."

Within months, the number of men seeking a test for the condition increased by 250%. With comedian Stephen Fry announcing his own cancer diagnosis at around the same time, the response became known as the "Fry and Turnbull effect".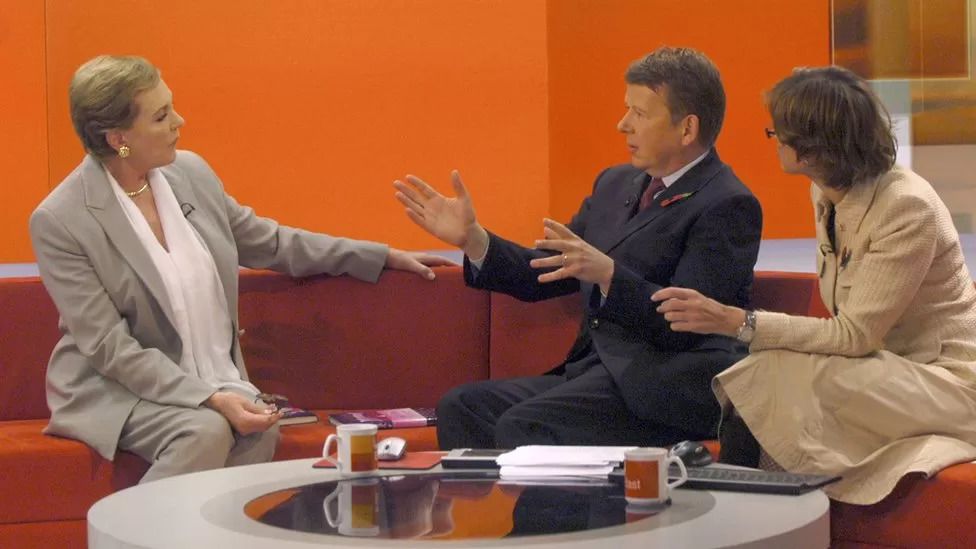 For 15 years, Bill Turnbull interviewed celebrities and politicians on the BBC Breakfast sofa
School 'like prison'

William Robert Jolyon Turnbull was born in Guildford, Surrey, on 25 January 1956. His father was a commodities broker and his mother taught at a school.

"She didn't mess around with maternity leave," Turnbull recalled, "but took me into the staff room in a basket when I was two weeks old."

At the age of eight, he was sent to boarding school near Ascot. The strict regime was a complete shock to his system - Turnbull likened it to "being in prison".

He spent much of his time in fear of being caned. "If schooldays are your happiest days," he remembered thinking, "I might as well top myself now."

He sat the entrance exam for Eton, still suffering from a head injury from a croquet mallet accident a week earlier. Turnbull missed out on a scholarship but went anyway.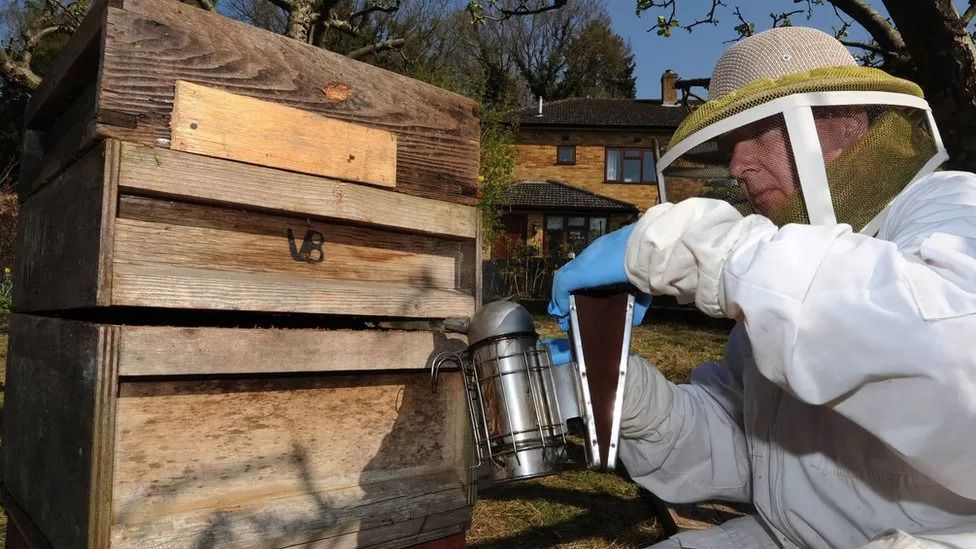 Bill Turnbull enjoyed bee-keeping in his spare time
No toff

In interviews, he admitted to having mixed feelings about the school. "I felt totally inferior, having never mixed with the upper echelons before," he confessed.

"The drawback is that people can think you're a toff for having been there. And we were fairly low down the socio-financial scale of families who send their sons."

He failed to get into Cambridge, for which he blamed himself. "I didn't work hard enough," he said.

But Turnbull enjoyed his time at Edinburgh University, where he studied politics and began writing for the student newspaper.

He graduated from the Centre for Journalism Studies in Cardiff and found work at Radio Clyde in Glasgow. Like many aspiring journalists, he found his first real job difficult - realising that "I simply didn't know very much."

In 1986, he joined the BBC Today programme. Two years later, he became a reporter for BBC Breakfast Time - where he covered both the Lockerbie disaster and the Romanian revolution.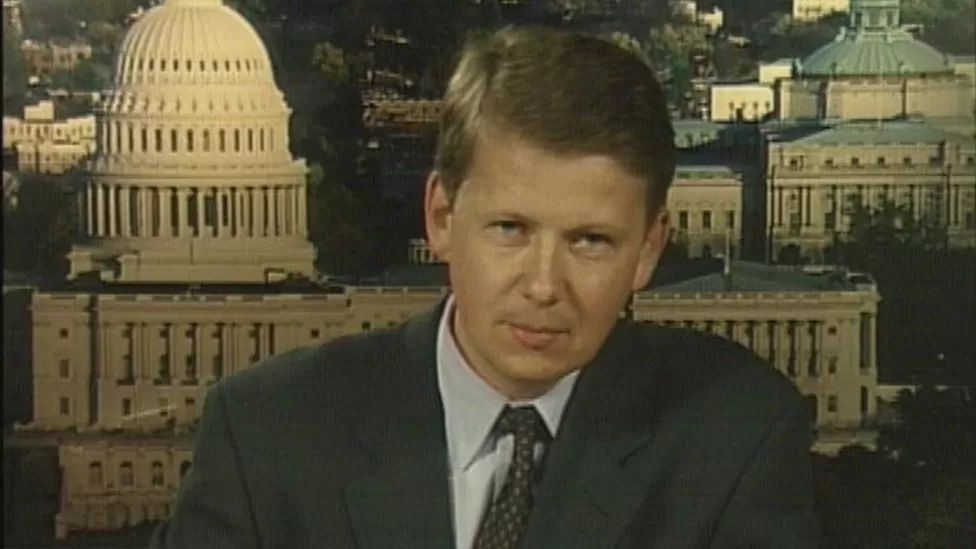 As a Washington correspondent, Bill Turnbull reported on the Monica Lewinsky scandal and the OJ Simpson trial

For the next decade, Turnbull travelled the world - reporting from more than 30 countries.

As BBC News Washington correspondent, he covered the Monica Lewinsky scandal, the OJ Simpson trial and hurricanes in Florida. But there were times when reporting got dangerous, especially in eastern Europe and Russia.

"I have been shot at once or twice," he once revealed. "If you're in a situation, and suddenly the bullets start flying around, there's absolutely nothing you can do about it."

In 2001, Turnbull swapped the constant travel for the BBC Breakfast sofa. For 15 years, the nation woke up to him chatting to high-profile guests in a calm and reassuring manner.

The zen of bees

Off screen, his passion was bees - which helped take his mind off the pressure of live broadcasting. He even ran the London Marathon wearing a bee-keeper's suit.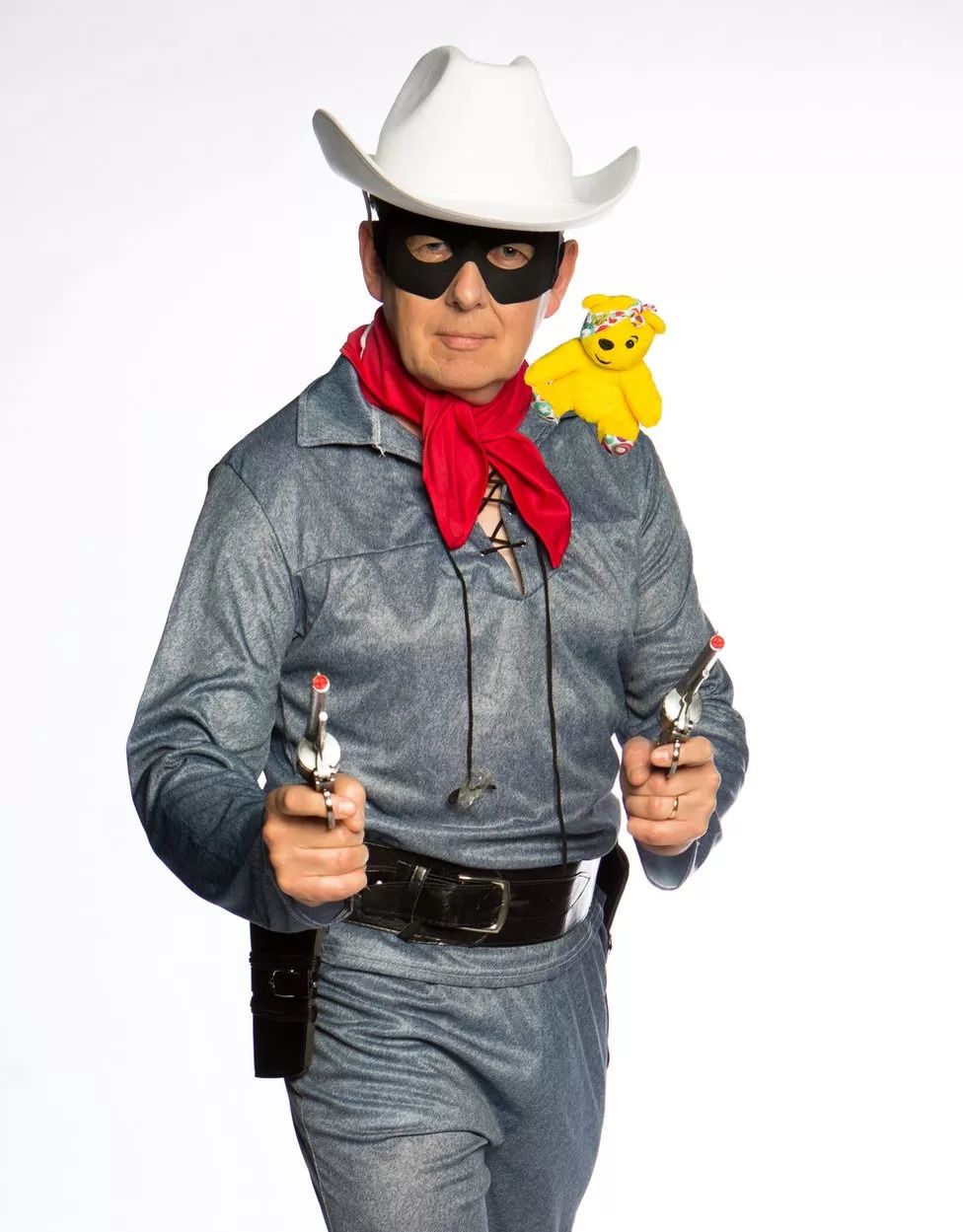 Turnbull became a TV celebrity, dressing up as the Lone Ranger for Children in Need in 2015

"There's a zen-like calm that you get when you open up a hive and the sun is shining," he explained. "It puts you in a good mood and takes you out of yourself."

When the programme relocated to Salford in 2012, Turnbull and his family moved to the edge of the Peak District - although, to his disappointment, the bees had to remain in Buckinghamshire, where it was less windy.

He was in high demand from other programmes - with celebrity stints on Mastermind, Who Wants to be a Millionaire and Pointless.

He survived several weeks of Strictly Come Dancing with dignity intact and even appeared in an episode of Doctor Who.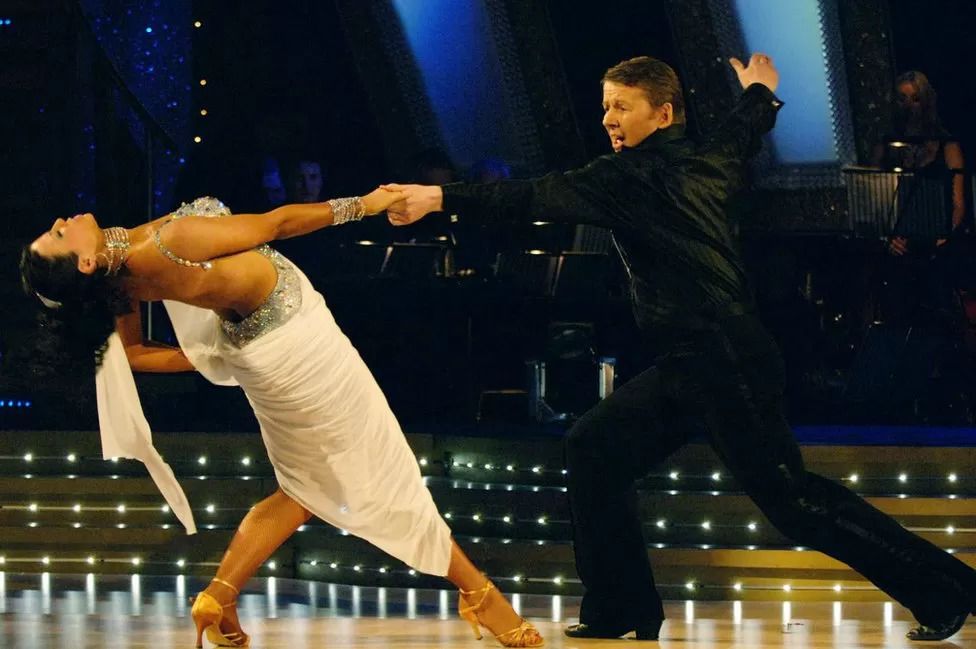 Turnbull appeared on Strictly Come Dancing with his professional partner Karen Hardy

When the time came to leave the Breakfast sofa, Turnbull was visibly emotional as tributes were paid by his former co-hosts Sian Williams and Susanna Reid.

There were also moving messages from those he had interviewed. "Bill, you beautiful specimen of a man," gushed James Corden, "For so much of my life, you were my morning glory and I will miss waking up with you every day."

Facing up to cancer

Turnbull tackled his cancer in the way he knew best: he made a television programme about it.

For the Channel 4 documentary, he tried alternative therapies. These included switching to a vegetarian diet and illegal experiments with cannabis oil, after meeting a 14-year-old who thought the drug had cured him.

He was filmed during consultations with his doctor at the Royal Marsden Hospital. At first, he had hoped he might have another decade of life but despite gruelling rounds of chemotherapy, the prognosis grew worse.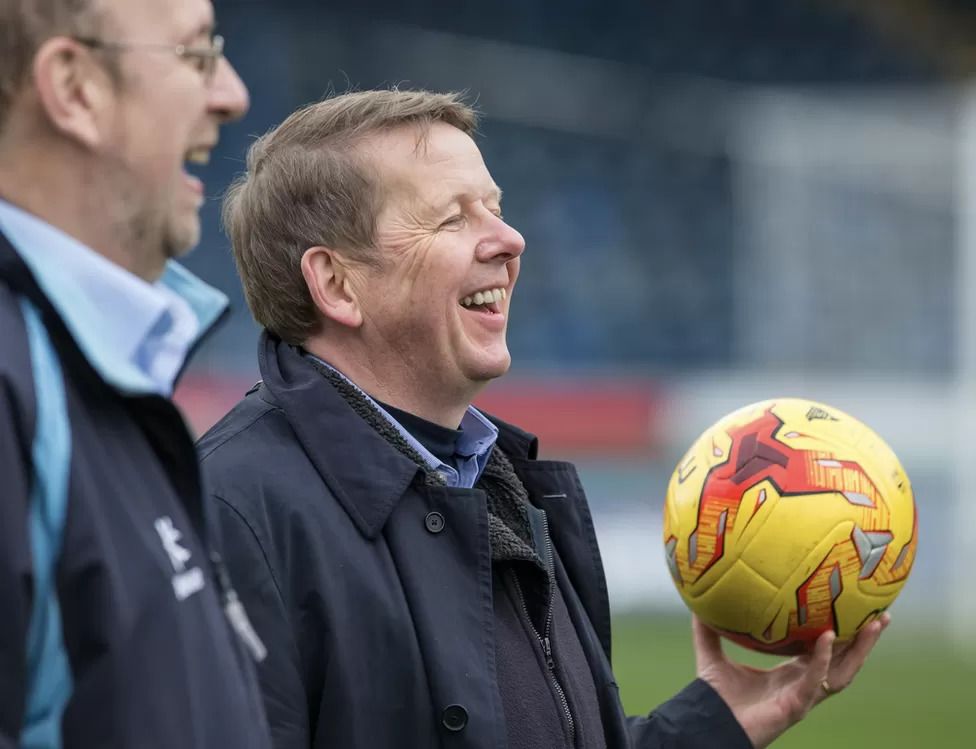 The former BBC Breakfast presenter had a lifelong passion for Wycombe Wanderers Football Club

He admitted that the disease had taken him and his family "to a dark place", and he found work a welcome release. In 2016, he joined Classic FM as a presenter - and he also commentated on matches at his beloved Wycombe Wanderers.

His experience with prostate cancer prompted him to talk about it publicly in the hope it would help other people.

Early diagnosis, he used to point out, was vital. Men diagnosed late have just a 22% chance of surviving for 10 years. If caught at an early stage, that rises to 98%.

After Turnbull's programme on the subject, he got many emails from those who said they'd been inspired to get themselves checked.

According to Public Health England, there were 49,029 cases of prostate cancer diagnosed in 2018 - an increase of 7,828 on the previous year. Many of those cases were treatable.

The openness with which Turnbull and Fry - whom he interviewed for his documentary - spoke about the disease most probably saved many of those lives.

Once asked by the Daily Mail how he wished to be remembered, Turnbull said: "As a half-decent broadcaster."

The honesty, bravery, and public way that he dealt with his cancer will ensure memories are fonder than that.