A warm August is on the cards after the heatwave is set to end in thunderstorms later this week, the Met Office has said.
The current heatwave is set to cool off this weekend, with thunderstorms predicted across much of England and Wales.

Warmer climes and drier weather is set to dominate the rest of August, the forecaster said.

Yellow weather warnings have been issued for much of the UK on Saturday and Sunday.

"Early next week it is looking like there will be some unsettled weather across large parts of the UK, particularly in eastern areas," Stephen Dixon from the Met Office said.

"Looking further ahead, from 5 August onwards, mixed conditions are looking most likely with no particular dominant weather type. It is likely that from that date, there will be some drier spells, and some showers and periods of rain.

"But as we head more towards the middle of August, it is looking likely that more settled and dry conditions will develop."

Mr Dixon told The Independent it looked likely that warmer and drier conditions will develop for much of the UK.

"That doesn't translate into a specific prediction of another heatwave, but it is possible warmer conditions will develop," he said.

The yellow weather warning was issued the day after England reached its hottest temperature of the year on Tuesday – 32.2C recorded at Heathrow Airport in west London.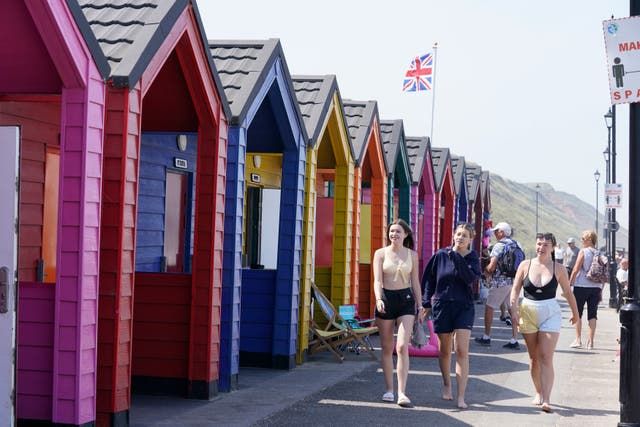 The mercury rose to 31.1C in North Wyke, Devon, on Wednesday, while a provisional all-time record for Northern Ireland was set when 31.3C was logged at Castlederg, Co Tyrone.

It comes only a few days after the previous record of 31.2C was set at Ballywatticock, Co Down, on Saturday.

Scotland saw a top temperature of 28C in Eskdalemuir on Wednesday while 30.8C was recorded in Usk in Wales.

At least 17 people have died in the water since Saturday amid scorching temperatures across the UK, a charity has warned.

Swimmers looking to cool off are being urged to take care in open water.

The Royal Life Saving Society UK (RLSS UK) said it is aware of 17 incidents of accidental loss of life in the water between July 17 and July 20.

There have been two further reports of people going missing in the water who are yet to be found.

All the incidents have occurred in England, except for one which happened in Northern Ireland.