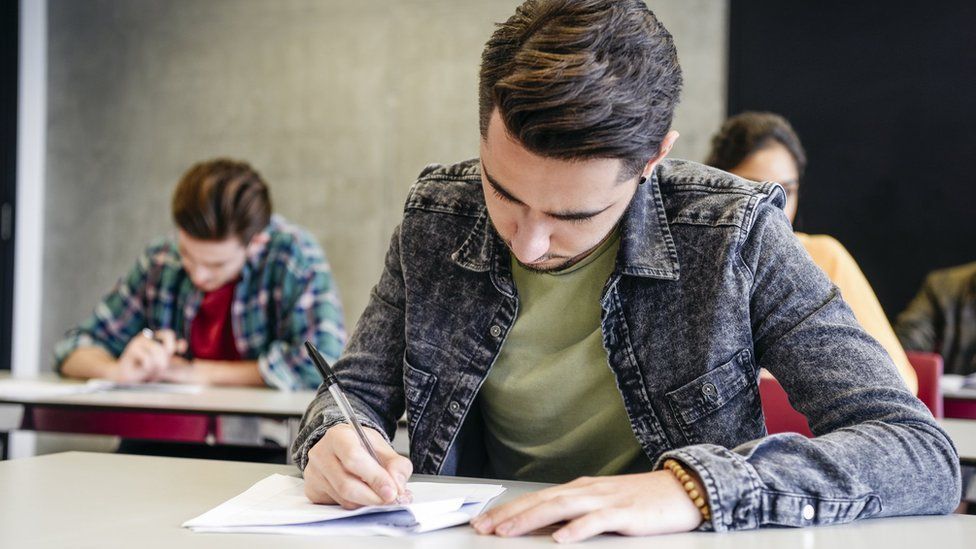 AQA exam board staff to strike ahead of results
Staff at the AQA exam board will strike for three days next week over pay, their union says.
Up to 180 Unison members are planning to walk out on 29, 30 and 31 July.

The union claims that pupils and students waiting for exam results in England, Wales and Northern Ireland could face delays as a result.

But AQA, which is responsible for around half of GCSE and A-level exams, says it has "robust plans" in place to ensure students get results on time.

Exam results for A-level students will be sent out on 18 August, while GCSE results day is 25 August .

Unison said AQA staff were given a 0.6% pay increase last year, and offered a 3% rise this year.

But AQA disputes that figure and says that while 3% was offered for "all staff" this year, the "average pay increase" would be 5.6%.

That includes a "pro-rata payment of £500" and "an incremental increase" for staff not at the top of their pay grades, it said.

Unison official Lizanne Devonport said staff were worried they would "no longer be able to make ends meet" with the rising cost of living, and had "no other option" but to strike.

"Pay has been falling behind prices for years and 3% isn't a wage rise - with costs spiralling, it's a pay cut," she said.

"Workers only strike as a last resort. They'd rather be doing the jobs that they're proud of. They don't want to disrupt students and know how important exam results are to them."

Unison warned that industrial action was "likely to escalate" unless talks were reopened.

A spokesman for AQA said its pay rise was "affordable and higher than many organisations" and that "the vast majority" of its staff did not support a strike.

He said 5% of the workforce "and well under half of Unison's own members" voted for strike action.

The spokesman also stressed that AQA had "robust plans in place to make sure any strike action won't affect" students getting their results on time.

"It's a shame that Unison is claiming otherwise, as this is wrong and only serves needlessly to alarm students and teachers," he said.

AQA says it sets and marks more than half of all GCSEs and A-levels taken in the UK every year.

Meanwhile, a separate dispute in Scotland could affect the student appeals process there.

Unite will launch an industrial-action ballot involving workers at the Scottish Qualifications Authority (SQA) after members voted against a pay offer that ranged from 1.7% to 4%.