Opposition to Covid vaccinations has come in many forms, but none stranger than the "sovereign citizen" defence.
It uses defunct ancient English law to try to challenge regulations.

Some anti-vaccination protesters outside schools and hospitals have used this to hand out fake legal documents to teachers, parents and health workers.

Others have sought to remove Covid patients from intensive care wards, citing non-existent "common law" empowering them to do so.

They also accuse the government of "vaccine genocide" in videos shared on social media.

Some groups have even held training camps for their members. Images have emerged of black-clad men being coached in "direct action" techniques.

No basis in law

Followers of "sovereign citizen" and "freeman on the land" conspiracy theories wrongly believe they possess the legal power to bring leading politicians, civil servants and scientists before so-called "common law courts".

They allege "crimes" over Covid restrictions and vaccinations, even though such claims have no basis in law.

But that has not deterred a newly-formed group calling itself Alpha Men Assemble, which combines anti-vaccine and sovereign citizen beliefs.

It has been holding training sessions in several UK locations where volunteers prepare for "direct action", such as breaking through police lines, marching formations and sparring.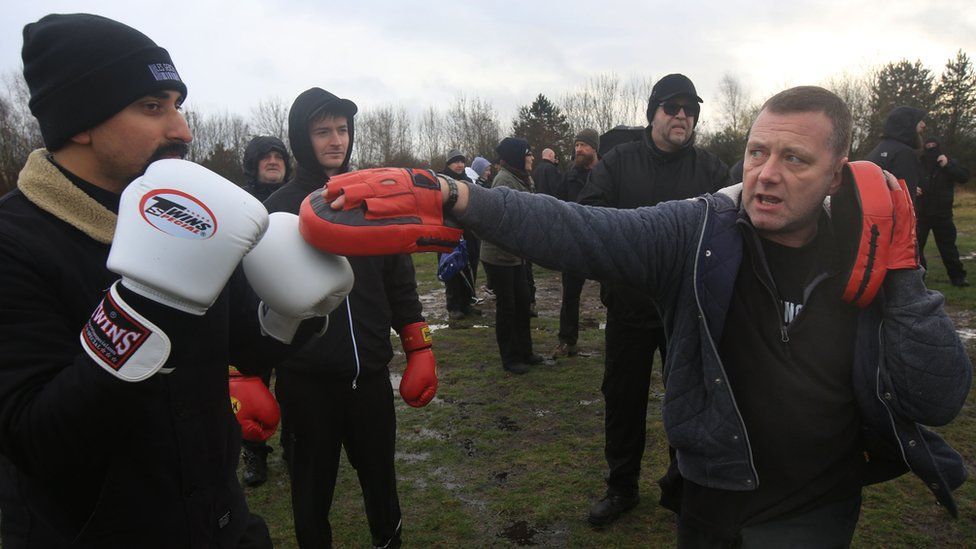 Alpha Men Assemble members are trained in various confrontation techniques

Launched on the Telegram chat app in mid-December, the group has amassed 8,000 members, and posts footage of training sessions online.

According to the Daily Mail, at a recent training session in Staffordshire activists were urged to "hit vaccine centres, schools, head teachers, colleges, councillors and directors of public health in every area".

The group has described itself as "free thinking men and women living as sovereign beings under common law". They say that they reject violence and are in favour of "body autonomy".

Its training events, it says, are "non-combative and are in no way to be linked to any militia or extremism".

We asked the Alpha Men Assemble group for comment, but have not yet received a response.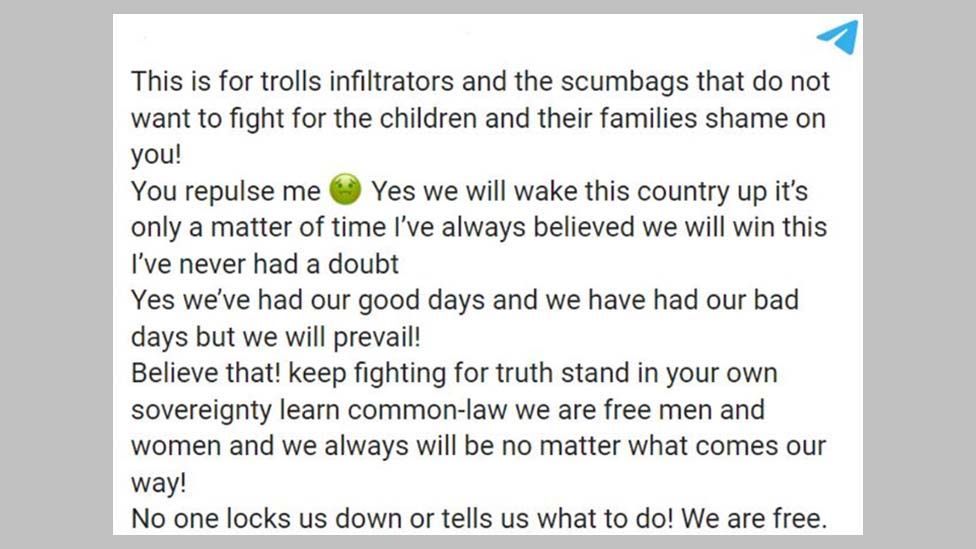 On Telegram, Alpha Men Assemble frequently reference "sovereign citizen" and "freeman on the land" beliefs
Direct action and threats

In December, two Covid patients were taken out of hospitals in Liverpool and Milton Keynes, against the advice of doctors and nurses.

Video of the incident in Liverpool's Aintree University Hospital shows activists boasting of their presumed legal jurisdiction as "common law constables". They told staff and police they were under "open arrest". A man was later arrested in connection with the incident.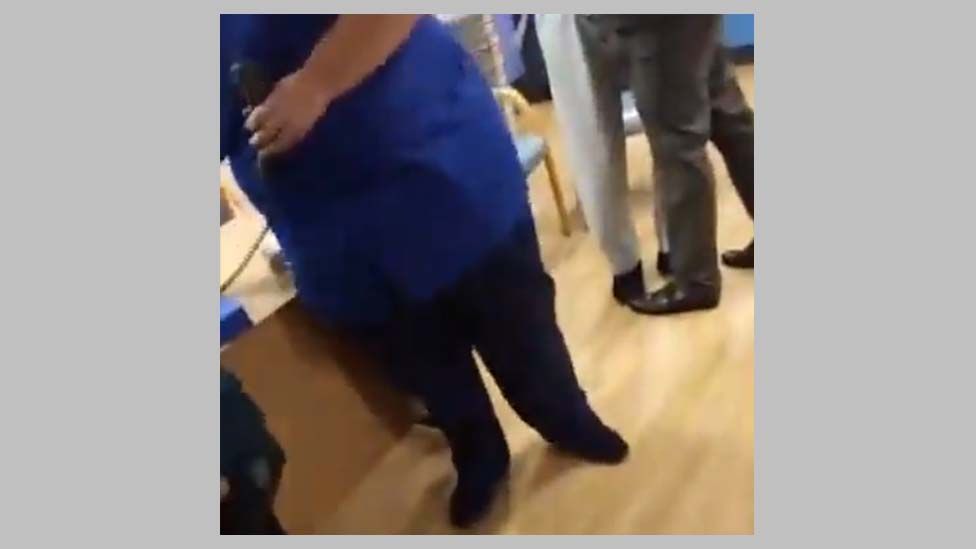 Activists filmed themselves attempting to remove a Covid patient from Liverpool's Aintree University Hospital

There was a similar incident last year in Ireland when an elderly Covid patient was removed from a hospital and taken home by a man citing a combination of anti-vaccine and sovereign citizen beliefs. The patient was returned to hospital two days later, and eventually died.

Conspiracy-laden criminal complaints have recently been filed with police in the UK and also the International Criminal Court, alleging "genocide" and "depopulation" via vaccinations.

Anti-vax activists have also picketed schools, hospitals, politicians' homes, police stations, vaccination centres and the homes of celebrities who have publicly supported vaccines. Politicians and journalists have been "served" with fake legal papers.

In August, a group attempted to "seize" Edinburgh Castle, claiming sovereignty over the landmark under Magna Carta. They told police they rejected "fake acts and statutes" that were "made up by paedophiles". One person was arrested.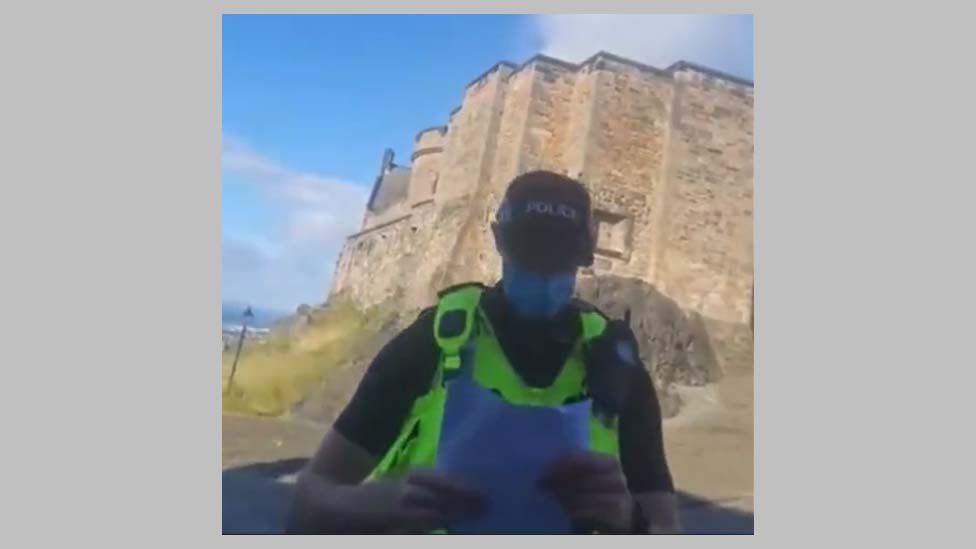 Police study papers handed to them by activists who failed to take over Edinburgh Castle
What do sovereign citizens believe?

The sovereign citizen movement originated in anti-government protests in the US in the 1970s and rose in prominence along with the militia movement in the 1990s. It was in that decade that the UK version of the movement surfaced.

British believers think that they can opt out of laws with which they do not agree, based on a clause - or, as they term it, Article 61 - of Magna Carta.

The clause describes a process of electing representative barons who had the power to seize property in order to redress grievances. It was struck from Magna Carta within a year of its signing and, like much of the document, has no legal standing today.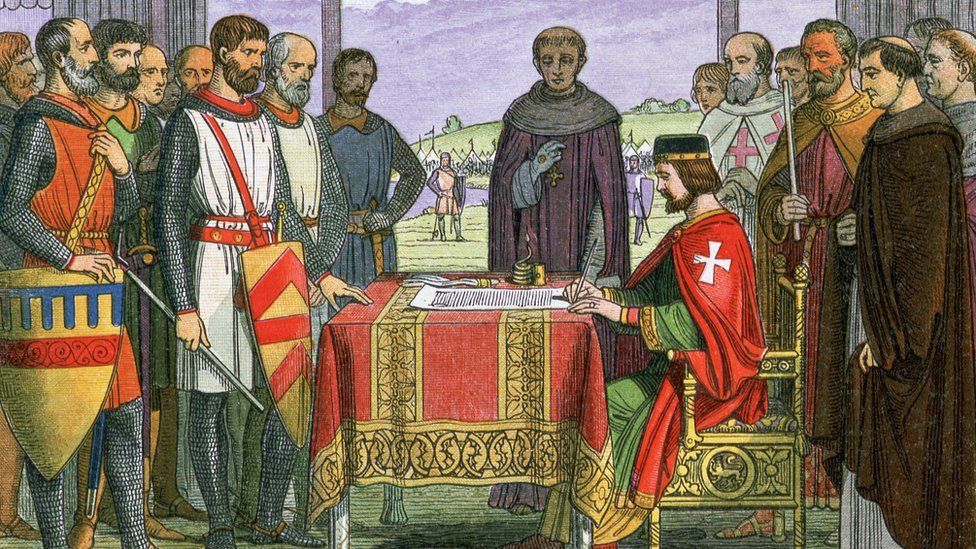 King John of England signed Magna Carta in 1215 AD

UK sovereign citizen activists often cite obscure terms such as "legal name fraud" and "wet signatures", and organise on social media.

Volunteers are encouraged to attend training to qualify as "common law constables", which they falsely believe grants powers akin to, or even higher than, the police.

Activists believe that government-issued documents such as birth certificates and driving licences are "legal fictions".

An online "common law court" allows followers to register as "living men and women". It also hands out identification documents to volunteers and provides so-called legal advice and services, for a range of fees.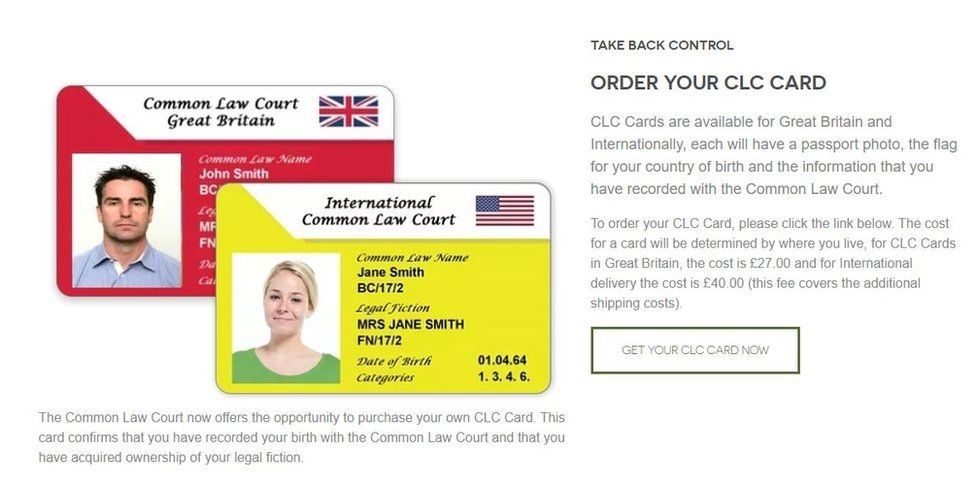 An online "common law court" issues IDs and services to sovereign citizen followers
"There is no such concept in our law as a sovereign citizen," said the Law Society's Ellie Cumbo.

Some followers have learned this the hard way, finding out in court that their beliefs don't form a legal defence from criminal charges.

Among these is a hairdresser in Bradford who was fined thousands of pounds after citing Magna Carta in an attempt to stay open during lockdown.

A tattoo artist who insisted on keeping his business open during Covid restrictions also eventually lost his case.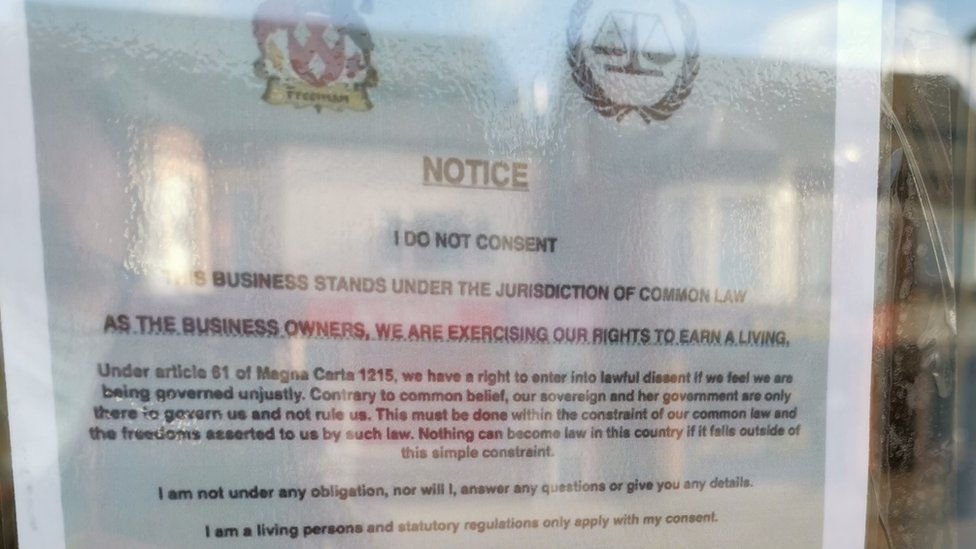 Some businesses have used a misleading notice found on the internet to justify staying open
What do the 'writs' contain?

Sovereign citizen activists have also issued fake legal "writs" calling for the recipient to stop promoting or administering Covid vaccines. These threaten prosecution for violating the Nuremberg Code against human experimentation.

They urge "all constables and sovereign men and women" to arrest these figures "on sight and without delay".

One sent to the BBC's disinformation reporter Marianna Spring said she was being served with a "notice of liability for harm and death".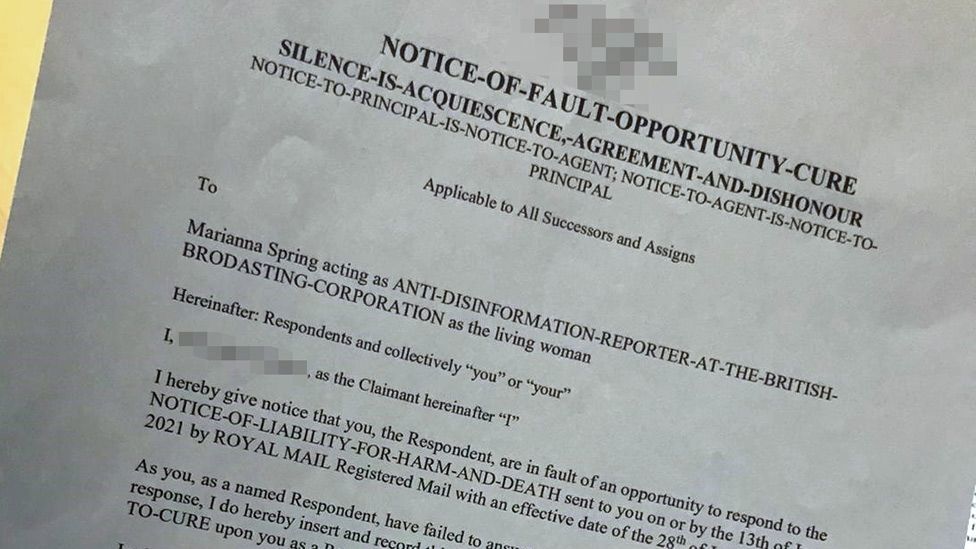 The BBC's Marianna Spring received this bogus writ in 2021. The text baselessly threatens legal action.

Ms Cumbo said: "These bogus writs have no legal validity, and in many cases do not even seem to involve or resemble a claim that would be recognised by the courts.

"Historically, writs were used to start any civil claim against someone else, but today this has to be done via a claim form issued under the authority of the relevant court."